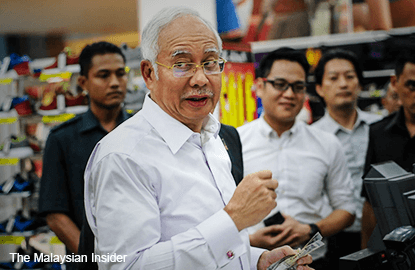 This article first appeared in The Edge Financial Daily, on November 3, 2015.
KUALA LUMPUR: Prime Minister Datuk Seri Najib Razak will not file a defamation suit against The Wall Street Journal (WSJ) in the United States because he is not a well-known personality in that country to obtain high  damages, his lawyer said.
"He (Najib) is not likely to get higher damages in the US because he is not well known there," Datuk Firoz Hussein Ahmad Jamaluddin, a member of the prime minister's legal team, told reporters yesterday.
Instead, Najib's legal team is insisting that WSJ state whether it will rely on a US law that protects US companies from court rulings outside US jurisdiction.
Firoz said Najib is also entitled to damages, just as opposition leaders like Datuk Seri Anwar Ibrahim and Lim Guan Eng, who had been awarded high monetary compensations against Utusan Melayu after it was found liable for defaming them.
WSJ in July reported the flow of RM2.6 billion into Najib's personal bank accounts through entities linked to 1Malaysia Development Bhd (1MDB), citing documents sourced from government investigators. It also published an opinion piece on the matter.
Najib has denied taking 1MDB funds for personal use.
The funds, a large portion of which was deposited ahead of the general election in May 2013, were later described as a political donation from the Middle East by the Malaysian Anti-Corruption Commission (MACC).
Najib's lead counsel Datuk Mohamad Hafarizam Harun said he had written to the publisher's lawyers for clarification whether the RM2.6 billion had come from 1MDB, but said there had been no satisfactory explanation.
The lawyer said he later wrote to the publisher's lawyer in Singapore to inquire whether it would rely on US law, the Speech Act, to deny Najib from enforcing the judgment obtained in Malaysia.
He said WSJ's lawyer in Singapore had refused to disclose anything further for strategic reasons. — The Malaysian Insider