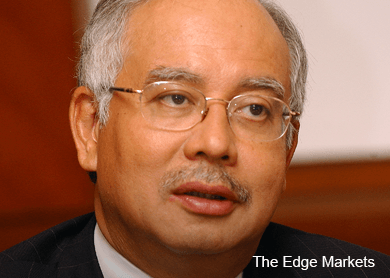 KUALA LUMPUR (Jan 26): Datuk Seri Najib Razak tonight said the RM2.6 billion issue was "an unnecessary distraction for the country" when he welcomed Attorney-General (A-G) Tan Sri Mohamed Apandi Ali's decision that there was no criminal wrongdoing in the political donation.
"The findings followed a thorough investigation by the relevant institutions, and he has confirmed what I have maintained all along: that no crime was committed," the prime minister said in a four-paragraph statement issued by his office in Putrajaya.
The RM2.6 billion found in his private accounts was first revealed by The Wall Street Journal (WSJ) last July and initially met with denials before Najib administration ministers said it was used for the 2013 election and to fight the Islamic State of Iraq and Syria (Isis) militant group.
Some RM42 million also came from a government firm SRC International Sdn Bhd but the A-G said that Najib was unaware of the source. The A-G today also ordered anti-graft authorities to close the investigation papers into the case, saying the money was confirmed as donation from the Saudi royal family.
Najib's lawyers threatened to sue WSJ but it came to naught.
However, he is suing former minister Tun Dr Ling Liong Sik over allegations that part of the money found in his bank accounts was from other sources.
While not disclosing what the money was used for, Najib today alluded to political funding.
"I appreciate that political funding is a topic of concern to many people. That is why I first initiated political funding reform proposals in 2010.
"Unfortunately, these were blocked by the opposition at the time. However, I have instructed for them to be put forward again for discussion," he said.
The prime minister, who first came to power in April 2009, also called for closure.
"This issue has been an unnecessary distraction for the country. Now that the matter has been comprehensively put to rest, it is time for us to unite and move on.
"I will now redouble my focus on the key issues that matter to Malaysia, especially combating the threat of terrorism, and strengthening the economy in the face of global headwinds," Najib said.
Earlier today, the A-G told a packed press conference at his office in Putrajaya there was "insufficient evidence" to implicate the prime minister.
"Based on facts and evidence, no criminal offences have been committed by the PM in relation to three investigation papers.
The three papers are one on the RM2.6 billion donation and two on SRC International which had taken a RM4 billion loan from the Retirement Fund Inc or KWAP.
MACC last year opened investigations following reports in WSJ and Sarawak Report in July last year alleging that of the RM2.6 billion donation, RM42 million had originated from SRC International, a subsidiary of Najib's brainchild, 1Malaysia Development Bhd.
This was according to documents on the money trail provided by Malaysian investigators, WSJ and Sarawak Report said.
A larger tranche of US$681 million was also transferred ino Najib's accounts, originating from a British Virgin Islands company and going through Falcon Private Bank in Singapore, they reported.
MACC had recorded statements from more than 100 witnesses, including Najib and the individual who allegedly gave RM2.6 billion.
The agency first submitted investigation papers to the A-G on December 31 last year, and had the papers returned with requests for more explanations on January 18. It resubmitted the papers last week.