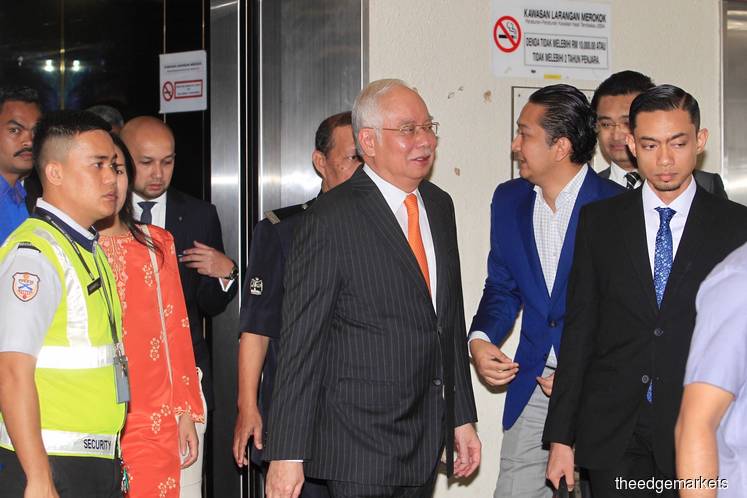 KUALA LUMPUR (Nov 11): High Court Judge Mohd Nazlan Mohd Ghazali said today that based on totality of evidence, it can be construed that Datuk Seri Najib Razak was a shadow director of SRC International Sdn Bhd and that it was on Najib's directive a sum of RM1.8 billion from the first loan was transferred to two banks overseas.
"The accused has enormous influence as prime minister (then) and (in) SRC as he has the power to dismiss the directors," said Justice Mohd Nazlan at the court proceedings this morning.
The judge said this means former prime minister Najib was a shadow director.
Justice Mohd Nazlan sees Najib as being an agent under Section 4 of the Penal Code in respect of his official role as advisor emeritus of the company.
Justice Mohd Nazlan said the accused had trusted dominion of property, and his control over SRC was "overwhelming" even though it was a private company.
The former prime minister's position as adviser emeritus meant that the directors had to seek his approval, the judge said.
According to Justice Mohd Nazlan, the imposition of Article 117 changed the formation of SRC as the accused had full dominion over the company.
Justice Mohd Nazlan ruled that impropriety had been proven in the money flow from Gandingan Mentari Sdn Bhd to Ihsan Perdana Sdn Bhd to Najib's accounts.
According to the judge, former Yayasan Rakyat 1Malaysia CEO Ung Su Ling said she was directed by the late Datuk Azlin Alias — Najib's principal private secretary — to transfer the money to the accused's accounts.
Justice Mohd Nazlan noted that Nik Faisal Ariff Kamil, who is former SRC CEO, was the link to Najib and SRC had been deprived of the RM42 million.
The money was utilised for various purposes where 15 cheques were issued and these included the payment of Najib's credit card debt, Justice Mohd Nazlan pointed out.
The judge also ruled that Najib's claim that the money came from the Saudi Arabia royalty was beyond comprehension as the money had been utilised earlier.
As such, Justice Mohd Nazlan ruled that elements of criminal breach of trust had been proven.
The Edge is reporting the proceedings of the SRC trial live.
Users of The Edge Markets app may tap here to access the live report.