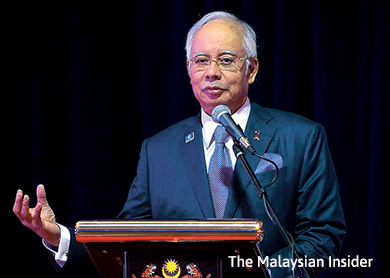 (Oct 2): Malaysians must stop making politically charged statements that could lead to trouble and misunderstanding, says Datuk Seri Najib Razak, a day after a deputy minister allegedly threated to the slap the Chinese if they took their grouses overseas.
In a brief statement issued on his Facebook account, the prime minister said this was not the time to be fighting and accusing one another but to ensure that the country continued to develop.
"I want all in Malaysia to not come up with statements that are political that can bring about conflict and misunderstanding," he said in the posting.
"This is the time for us to ensure that our country continues to progress and not to be hostile and accusing."
Najib, who is currently in Milan, Italy for a three-day working visit, did not specify what incident prompted the posting.
Deputy Agriculture and Agro-based Industry Minister Datuk Tajuddin Abdul Rahman yesterday allegedly threatened to "slap" the Chinese should they take their problems here to other countries.
He later denied issuing the threat.
The deputy minister was commenting on the visit to Petaling Street by Chinese ambassador to Malaysia Dr Huang Huikang on September 25, when he reportedly said that Beijing was opposed to terrorism, extremism and any form of discrimination based on race.
Huang's comments courted controversy and he later met with the acting foreign affairs minister to explain his statement.
Petaling Street was the scene of chaos on September 16 when police had to use water cannons to disperse a crowd of "red shirt" protesters who wanted to force their way into the area.
One of the leaders of the rally, Datuk Jamal Md Yunos, had earlier threatened to protest again in Chinatown last Saturday to demand the authorities raid traders there who he alleged were involved in selling counterfeit goods and running illegal businesses.
The rally was later called off. – The Malaysian Insider