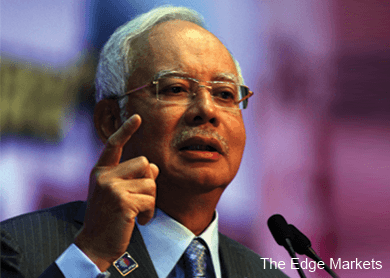 (May 21): Faced with criticism over his leadership and some of his policies, Prime Minister Datuk Seri Najib Razak today declared that he would forge ahead and not give up.
"Despite the numerous challenges and obstacles lately, the government and I only choose one path, which is to forge ahead and will never ever turn back," he said at tabling of the 11th Malaysia Plan in the Dewan Rakyat.
On his critics, Najib said the government was criticised even when it gave out cash handouts to the needy.
"When the government sincerely replaced the blanket subsidy with a targeted subsidy in the form of BR1M, we are suddenly accused and criticised of this and that," he said, referring to the 1Malaysia People's Aid by its Malay acronym.
Najib has repeatedly come under fire from former prime minister Tun Dr Mahathir Mohamad over BR1M
Mahathir said he had advised Najib against giving money for people to cope with rising cost of living but his advice fell on deaf ears.
BR1M was introduced by Najib in 2012, a year before the last general election, and has been severely criticised by Dr Mahathir as a form of "bribery" in order to win votes.
Dr Mahathir also had cited BR1M as one of the reasons why Najib should step down, along with the 1Malaysia Development Berhad (1MDB) scandal and the murder of a Mongolian woman Altantuya Shaariibuu.
Quoting a Malay proverb, Najib said life has its ups and downs, and urged everyone to remain steadfast.
"If we are patient and we are steadfast in our beliefs and confident in our hearts, pray to God, eventually the path will be open for us to victory," he said.
Amid a continued onslaught of criticism in his second term, the prime minister took to his website NajibRazak.com to refute some of the key accusations made by his benefactor-turned-detractor Dr Mahathir, who has called for Najib's resignation.
In the FAQ section of his blog, the Umno president listed 13 issues and claims hurled at him and his administration, from the murder of Altantuya to the use of government jets and Barisan Nasional winning the next general election. – The Malaysian Insider