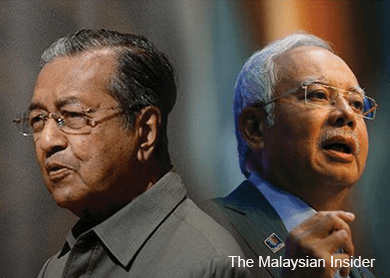 (June 18): Prime Minister Datuk Seri Najib Razak wants to leave his own legacy but what he is doing is verging on criminal, Tun Dr Mahathir Mohamad told The New York Times in an interview yesterday.
The former prime minister spoke to the US daily on his criticism of struggling state investment vehicle 1Malaysia Development Berhad, the "lavish" lifestyle of Najib's wife Datin Seri Rosmah Mansor and the troubling questions about the murder of Mongolian woman Altantuya Shaariibuu.
Najib "wants to leave his own legacy," Dr Mahathir was quoted as saying in the interview at his office in Putrajaya. "But what he does is verging on criminal."
Dr Mahathir has been relentlessly criticising 1MDB and Najib, who is also finance minister and chairman of the firm's advisory board.
Today, he told the state investor to furnish proof for its answers instead of using the excuse that its dealings were secret as they were government matters.
"To all my criticism 1MDB can only say that they are all wrong. But there are no proofs given. The answer is always about secrecy of government matters," Dr Mahathir wrote in his latest blogpost.
In a separate posting, he scrutinised Najib's personal behaviour, pointing to his and Rosmah's "lavish" lifestyle.
"There are many things about his personal behaviour that I thought were not right. But I was prepared to overlook them, including he and his wife's lavish lifestyle," Dr Mahathir said.
The retired statesman also predicted that ruling coalition Barisan Nasional would lose the next polls if Najib remained in power. He cited various unanswered allegations, one of which is the murder of Altantuya. – The Malaysian Insider