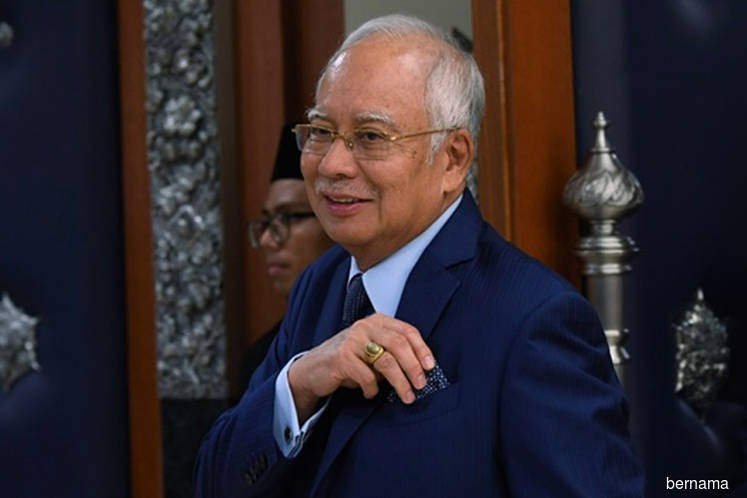 KUALA LUMPUR (Nov 14): Former Prime Minister Datuk Seri Najib Razak said it would be unconventional if the current government were to undergo a cabinet reshuffle given that it was only formed a few months ago.
Speaking to reporters at the parliament lobby today, Najib said if any of the ministers were to be dropped at this point, it would mean that they were not performing up to standard.
"A cabinet reshuffle usually takes some time, it only happens about one and a half years into their tenure. It does not follow our convention for it to happen in the next few days," he said.
"So it does add to the interpretation or perception that they are not performing, that is why they need the cabinet reshuffle.
"It can be interpreted that the ministers appointed do not have the calibre or cannot perform their duties as expected," Najib added.
Separately in the parliament lobby, incoming PKR president Datuk Seri Anwar Ibrahim said he was only a member of parliament and the question of a cabinet reshuffle is under the prerogative of the prime minister.
"No one in PKR alerted me the need to change or submit new names [to the prime minister]. So as it stands, [there will be] no change," he said.
Yesterday, in an interview with The Straits Times, Prime Minister Tun Dr Mahathir was quoted as saying that he was open to reshuffling his cabinet following the changes of positions due to Parti Keadilan Rakyat (PKR) party elections.
Following the conclusion of the PKR elections last weekend, Dr Mahathir maintained that he has the final say on cabinet appointments, and did not rule out making changes if PKR were to make nominations.