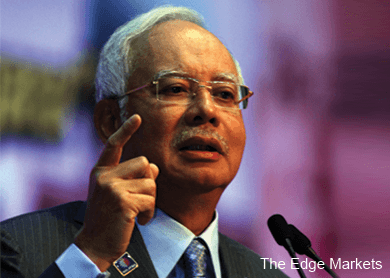 KUALA LUMPUR (Mar 20): Datuk Seri Najib Razak is suing PAS organ Harakahdaily over an article linking the prime minister's stepson with the controversial 1Malaysia Development Berhad (1MDB).
According to Bernama, the suit filed on Wednesday named Harakahdaily managing editor Dr Rosli Yaakop and editor-in-chief Taufek Yahya as defendants.
Najib is reportedly suing the publication in his personal capacity.
The article in question, "Dana 1MDB biayai syarikat filem Riza Aziz?", appeared in Harakahdaily on February 12.
It was a commentary based on The New York Times article about the wealth of businessman Low Taek Jho and his role as a property investor.
Low, who is better known as Jho Low, is said to be a close associate of Najib and was said to have had transactions with various parties, including Riza.
Riza, the son of Najib's wife Datin Seri Rosmah Mansor from her earlier marriage, made headlines early last year after he was revealed to be a producer of the award-winning movie "The Wolf of Wall Street" and his purchase of a luxury condominium in New York worth RM110 million.
The New York Times article, titled "Well connected at home, young Malaysian has an appetite for New York", described how Low, in 2010, began making some expensive real estate deals in the US, using shell companies.
Rosli had written that the purchase of luxury condominiums had raised important questions about where the money was coming from. Said to be an adviser to 1MDB, Low had been paid a substantial amount for his role in the state investment vehicle, the Harakahdaily report said.
The article also questioned how Riza had obtained the funds to purchase the luxury property from Low and to finance his production house Red Granite Pictures.
Quoting The New York Times article, Harakahdaily said Riza had once commented that he had funded the movie with money obtained from "sovereign wealth", believed to be a reference to 1MDB.
Najib, in his earlier letter of demand, said that Rosli's article was an "irresponsible slander that was nothing more than pure lies".
In June last year, Najib sued news portal Malaysiakini over readers' comments published in the website that were allegedly defamatory.
Najib also threatened to sue opposition lawmaker Tony Pua for "defamatory" remarks against him on November 3 last year about 1MDB which had caused him "tremendous stress and embarrassment".
The prime minister filed the suit against Pua in the Kuala Lumpur High Court earlier this month.
Pua was told to publish a retraction and apology within 14 days in two national newspapers, or face legal action for his speech recorded in the November 3 video: "Tony Pua: Najib is creating the biggest scandal ever in the history of Malaysia."
He was also told to remove the video from the Internet, stop further defamatory statements, and pay Najib damages.