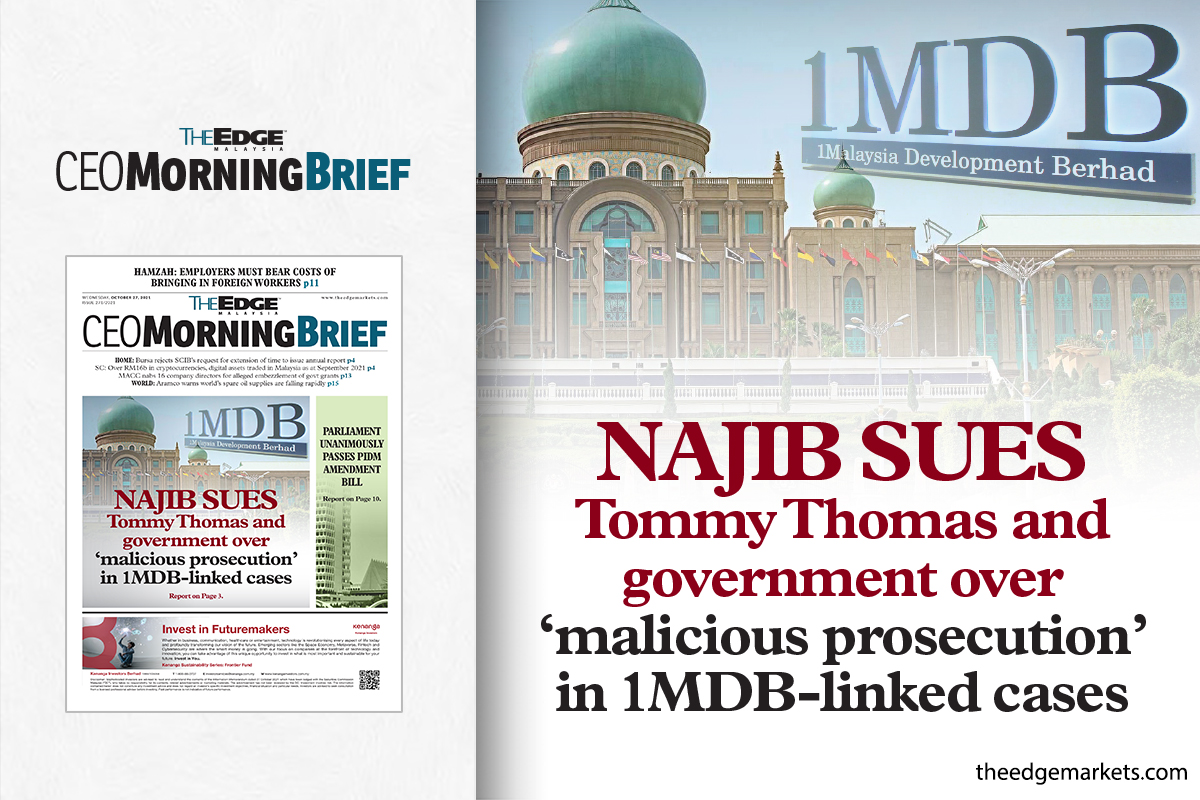 KUALA LUMPUR (Oct 26): Former premier Datuk Seri Najib Razak is suing former attorney-general Tan Sri Tommy Thomas and the government over charges brought against him in criminal cases linked to 1Malaysia Development Bhd (1MDB).
In the suit filed at the High Court on Oct 22 and sighted by The Edge on Tuesday, Najib alleged that the charges against him were part of a "long planned, premeditated exercise by Thomas" and the then Pakatan Harapan government.
"As attorney-general he carried out his duties, at least in relation to Najib, as if he were an agent of Pakatan Harapan. In fact, he would later go on to link Najib's political party UMNO with Najib himself, the Malay race and a drive to Islamisation," the statement of claim read.
The charges over which Najib is suing are in the 1MDB-Tanore trial, International Petroleum Investment Company (IPIC) case, and the money laundering case under the Anti-Money Laundering, Anti-Terrorism Financing and Proceeds of Unlawful Activities Act 2001.
Najib made clear that he was not suing over the charges that he has been found guilty of by the High Court under the SRC International Sdn Bhd case. The UMNO lawmaker is appealing against the conviction, and sentence of 12 years in jail and RM210 million fine, at the Court of Appeal.
In the suit against Thomas and Putrajaya, Najib is seeking a public declaration that Thomas had committed misfeasance in public office. 
The RM1.94 million claimed includes RM310,115 for medical expenses suffered due to anxiety and stress caused by prosecution, and RM1 million for consultation fees for audit team to perform documentation review in order to prepare the facts to face the prosecutions.
It also includes RM56,673 for travel expenses to date, RM90,000 for wasted costs due to being unable to travel overseas due to the conditions of the bail imposed, and RM480,000 for engagement of other services in dealing with the charges. 
According to the statement of claim, Thomas had met former prime minister Tun Dr Mahathir Mohamad in 2015 to advise him that civil and criminal action should be brought against then prime minister Najib for his involvement in the 1MDB scandal.
The statement said that in 2016, Thomas had written an article for an online news portal where he "heavily criticised and accused Najib of stealing funds from 1MDB". 
It went on to state that when Pakatan Harapan came to power in 2018 — with Dr Mahathir as the prime minister and Thomas as the attorney-general, Dr Mahathir had said that the government had an almost perfect case against Najib. 
"This was based on a briefing Thomas gave Mahathir. There was no doubting Thomas," the statement of claim read. 
It also claimed that Thomas had pressed for Najib to be charged, despite the Malaysian Anti-Corruption Commission (MACC) stating that it found "no wrongdoings" on Najib's part. 
"Dissatisfied with the MACC's response, Thomas asked Mahathir (then prime minister) to chair a meeting with him, the then inspector-general of police and an MACC director. 
"Mahathir did so. During this meeting, the MACC director repeated to Mahathir that they found no wrongdoings. Nonetheless, Thomas proceeded to prosecute Najib," the statement read.
Prejudice against Najib
The statement also alluded to Thomas' approach to other cases, namely dropping charges against DAP secretary-general Lim Guan Eng in a matter involving a residential property. 
Lim, who had served as the chief minister of Penang, is currently facing four criminal charges in relation to the Penang undersea tunnel project. 
The charges linked to the residential property have also been reinstated against Lim and his wife Betty Chew. 
Apart from dropping Lim's charges, the statement of claim stated that Thomas had made "many disparaging comments against Najib" before and after his appointment as the attorney-general. 
"Thomas accused Najib of being a criminal and acting in cahoots with Low Taek Jho," the statement said, referring to the fugitive financier better known as Jho Low.
"This even though charges against Najib Razak concerning this matter have yet to be tried," it added. 
The statement claimed that Thomas was "prejudiced" against him even before he took office as attorney-general, during his time as attorney-general, and even after he left office in 2020. 
"Thomas used his former office to act against Najib wrongfully, maliciously and in bad faith," it said, adding that he had published statements that would prejudice and effect the ongoing trials against Najib. 
Najib filed the suit  through the law firm of Raj, Ong and Yudistra. 
When contacted by The Edge, lawyer Yudistra Darma Dorai said the High Court has set Nov 19 for case management. 
Earlier this year, Thomas was issued a letter of demand by Najib to retract comments the former made in his autobiography  "My Story: Justice in the wilderness", which implicated Najib in the murder of Mongolian model and translator Altantuya Shaariibuu.
Read also: 
Najib files second suit against ex-AG Tommy Thomas over memoir
To receive CEO Morning Brief please click here.