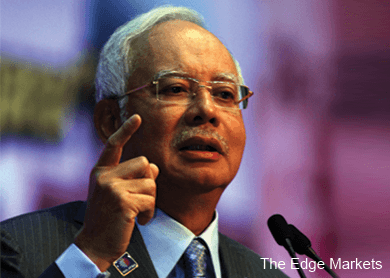 Prime Minister Datuk Seri Najib Razak is finding himself in a tight situation now that businessman Low Taek Jho has accused Umno of having "spin masters" over the debt-ridden state-owned investment fund, 1Malaysia Development Bhd (1MDB), former information minister Tan Sri Zainuddin Maidin said.
Zainuddin, the former chief editor of Umno-owned newspaper Utusan Malaysia, said things were also getting worse for Najib now that former prime minister Tun Dr Mahathir Mohamad has weighed in on the murder of Mongolian Altantuya Shaariibuu, who was said to be linked to Najib.
The Umno veteran said Najib's position was uncertain despite appearances of stability and support internally and externally.
Low's claim of Umno spin masters making him the scapegoat for 1MDB's troubles has upset those in the ruling Malay party, who have pledged their support for Najib, Zainuddin said.
"They want Jho Low to be investigated," he said in his blog today.
Umno Youth exco member Ibdillah Ishak and Kepala Batas MP Datuk Seri Reezal Merican Naina Merican were two party members who have challenged Low to return to Malaysia to face questions on his links to 1MDB.
Zainuddin said it was known that Low was good friends with Najib and his family, and their closeness had caused Dr Mahathir to question Low's credibility.
"Dr Mahathir's question about who this person is, who is adviser to 1MDB, has lent credence to Dr Mahathir's struggle," he said, referring to the latter's repeated questioning and criticism of Najib and 1MDB.
Low had a role in the Terengganu Investment Authority, which was the precursor to 1MDB, but has since been regarded as an adviser to the latter, which has racked up debts of RM42 billion in about six years of operations.
Low was also alleged to have siphoned off money from the fund by orchestrating a joint venture for 1MDB with little-known oil company PetroSaudi International.
Low accused Umno members of making him a target for 1MDB's troubles.
"It's just crazy, and these Umno guys are spin masters; they know all this sort of nonsense.
"No one seems to ask the question who is the ultimate decision-maker on 1MDB? No one asks that. No one ever asks about the shareholder's role," he had said to Euromoney in a recent interview.
Najib is chairman of 1MDB's advisory board.
Dr Mahathir's criticism of Najib until recently had centred mostly on 1MDB and the government's policy of giving BR1M (1Malaysia People's Aid) cash handouts, but recently took a sharper edge when the former prime minister raised questions about Altantuya's murder.
Dr Mahathir had said police should take a second look at the murder case since one of the convicted murderers, former commando Sirul Azhar Umar, claimed that he was acting under orders.
Zainuddin said Dr Mahathir's suggestion was supported by a former top police officer.
"It is even worse now that the former inspector-general of police Tan Sri Musa Hassan supported Tun Dr Mahathir's call for investigations on the Mongolian woman Altantuya Shaariibuu's death be re-opened.
"It is clear that the pressure is increasing against Najib despite the show of support for him." – The Malaysian Insider