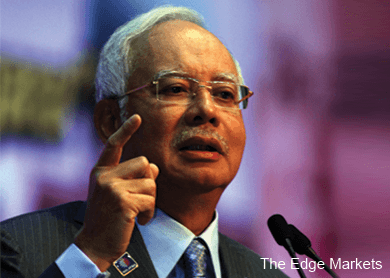 (April 13): Prime Minister Datuk Seri Najib Razak today urged more than 750,000 government pensioners to "find" him if they needed help instead of going to "others", amid mounting criticism against his administration by Umno veteran Tun Dr Mahathir Mohamad.
In his speech at the launch of the Pensioners' Foundation in Putrajaya today, Najib said he was confident that a large number of pensioners were supportive of his administration.
"I prefer you to find me than anyone else," said Najib to some 1,000 former civil servants who were present today.
He said with the support of about 1.61 million civil servants and 750,000 government pensioners, Putrajaya would remain strong and "solid".
"Even though I know it is difficult to get 100% support in this democratic society, I know the bigger portion of the group are strong government supporters," he said.
Najib today pledged RM5 million to kick-start the foundation.
The prime minister told the pensioners that for the government to "consider" or "upgrade" the benefits given to civil servants as well as pensioners, it needed to expand the economy and increase revenue.
"The economic growth has to reach 5% to 6%. When income increases, we can look into the increase of allowances, salaries and the upgrading as well as promotion. If the money is not there, how are we to do all this?" Najib asked.
He said if the government spent more than what it earned, it would be irresponsible.
He added that the government scheme and perks offered to civil servants was "not bad" and that was why many wanted to work with the government.
He gave the example of job applications for the post of diplomatic officers, saying that there were about 100,000 applications for 300 posts within the government.
"If the scheme and the services are not good, I don't think many want to join the government," said Najib.
Earlier Pensioner Foundation board of trustee chairman Tan Sri Aseh Che Mat told the pensioners to show support for the government of today.
"Don't just receive, we have to give back. We have served the government for so long – give strong support to the government and its leadership. I hope pensioners will give solid support until the next election," said Aseh.
He also asked them to give undivided support to Najib as the leader of the country as he was facing a test in his political career.
Najib has been facing attacks from his predecessor Dr Mahathir for his failure to address issues plaguing the nation, including 1MDB's financial debt and the murder of Mongolian national Altantuya Shaariibuu.
Dr Mahathir had warned that Barisan Nasional would lose the next general election if Najib continued as prime minister. - The Malaysian Insider