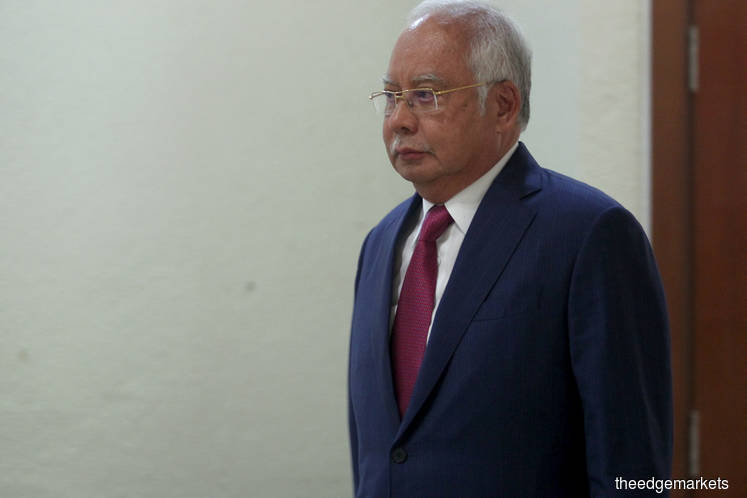 KUALA LUMPUR (July 25): Datuk Seri Najib Razak and two of his family members have filed a notice of motion to inspect and obtain the details of the inventory of assets seized by the police from six properties in May 2018.
Earlier today, the High Court was informed by lawyer Syahirah Hanafiah that Najib filed his notice on July 18, while his wife Datin Seri Rosmah Mansor and daughter Nooryana Najwa Mohd Najib filed theirs on July 19.
Soon after the 14th General Election in May last year, the police raided properties in Putrajaya, Pavilion Residences and Jalan Langgak Duta here and seized assets which included cash in 26 currencies, thousands of jewellery pieces, and hundreds of handbags, watches and sunglasses, according to reports.
A year later on May 7, the government and the police filed a civil forfeiture suit against Najib, Rosmah, three of their children and 13 others in relation to the items — estimated at RM711 million — allegedly bought using 1Malaysia Development Bhd funds.
In Najib's affidavit, the ex-premier justified the motion as the forfeiture involved many items, with descriptions used such as 'various brands' that were unclear.
In response, deputy public prosecutor Faten Hadni Khairuddin requested for time to examine the law, considering the Anti-Money Laundering, Anti-Terrorism Financing and Proceeds of Unlawful Activities Act 2001 does not underline specific procedure to fulfil these requests.
High Court judge Justice Mohamed Zaini Mazlan set Oct 14 to hear the motion.
See also:
Notice for interested parties to claim Najib's assets
Putrajaya files forfeiture suit against Najib, Rosmah over items bought with stolen 1MDB funds
Value of items seized from Najib-linked properties totals RM1.1b