This article first appeared in The Edge Financial Daily, on July 24, 2018.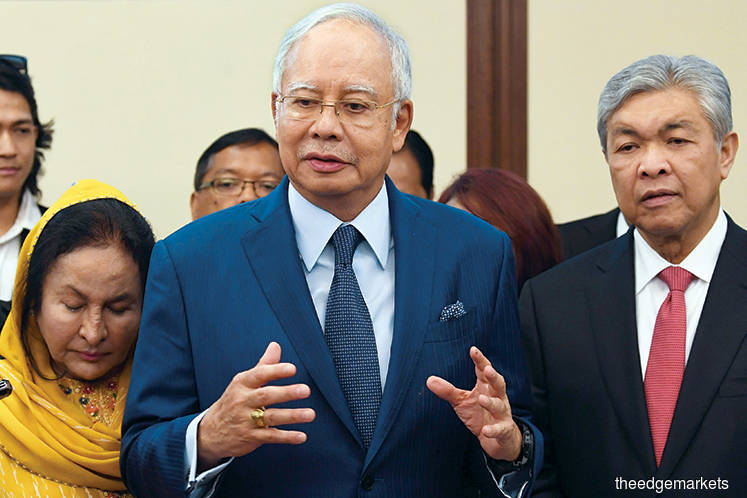 KUALA LUMPUR: Former prime minister Datuk Seri Najib Razak has denied that the cheques amounting to RM470 million he signed for Barisan Nasional (BN) accounts came from 1Malaysia Development Bhd (1MDB), saying his "conscience is clear".
"When we issued the cheques, we were very clear that they did not come from 1MDB. I would not have issued the cheques if they came from 1MDB," he told reporters at the parliament lobby yesterday.
The former Umno president and 1MDB advisory board chairman was commenting on a Malaysiakini report that said at least RM470 million of the funds in Najib's personal bank accounts went to various political entities through 102 transactions between April 2012 and August 2013.
Out of this, Umno received the lion's share, at RM417.4 million or 88.8% of the funds. The next biggest recipients were MIC at RM20.55 million, while MCA received RM16.5 million.
Najib has continued to maintain that the US$681 million he received was a donation from the Saudi royalty.
On June 30, Prime Minister Tun Dr Mahathir Mohamad asked Umno to return any money it may have received from 1MDB to the government as it belonged to Malaysians.
To this, Najib stressed that the money did not come from the troubled strategic development company.
"That (Umno's account) is subject to investigation. It cannot be said that it is from 1MDB to begin with. So, the source of funds must be established very clearly.
"Let it be in the hands of the investigators because we don't want to pre-empt the findings," he added.
On June 28 and 29, the 1MDB special investigation task force, which focuses on asset recovery, froze 408 bank accounts of individuals, political parties and non-governmental organisations worth RM1.1 billion linked to 1MDB.
Najib also had his personal bank accounts frozen by the Malaysian Anti-Corruption Commission due to an alleged link to SRC International Sdn Bhd, but the freeze has since been lifted as they were found not related to SRC and the RM2.6 billion siphoned off 1MDB.