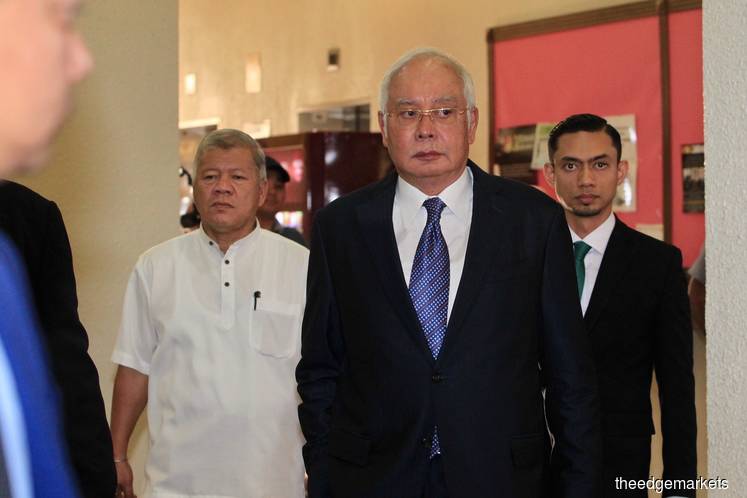 KUALA LUMPUR (Feb 3): Former prime minister Datuk Seri Najib Razak said he did not sack Tan Sri Muhyiddin Yassin and Datuk Seri Shafie Apdal due to their opposition to how the issues surrounding SRC International Sdn Bhd and its former parent company 1Malaysia Development Bhd (1MDB) were handled, but rather because they violated state secrets laws.
During re-examination by lawyer Farhan Read, the accused was asked to explain why he sacked Muhyiddin and Shafie, who were deputy prime minister and rural and regional development minister respectively at the material time.
"If you are a cabinet minister, you are bound by the principle of collective responsibility. It doesn't mean that at any time you cannot disagree with the prime minister, but that the disagreement must be within the confines of cabinet.
"The cabinet discussions are subjected to the OSA (Official Secrets Act) for the very reason that they should be held in state secrecy and cannot be talked about outside cabinet," he said.
"Both Muhyiddin and Shafie were removed because of the principle of collective responsibility," said Najib.
He added that it was not his first time removing ministers on this basis and pointed out that the current prime minister, Tun Dr Mahathir Mohammad, had removed many more ministers in the past than he had.
Najib said it is important to show that there is unity in the cabinet and that it would be problematic in the event that the prime minister says one thing and a cabinet minister says otherwise, taking a swipe at and pointing to the current government as an example.
"I cannot afford, as a prime minister, to give the impression there is no unity in the cabinet. If you disagree with the cabinet's decision, the disagreement must be voiced in cabinet. If you speak outside the cabinet, you are going against the principle," he said.
"I would never remove a minister just because he disagrees with me," added Najib.
Farhan then asked if there were any disagreements to the SRC matters voiced in cabinet meetings. Najib said the disagreements were only voiced outside of cabinet meetings.
Both Muhyiddin and Shafie were removed from their ministerial posts amid a cabinet reshuffle in 2015, after publicly criticising 1MDB.
Najib was testifying at his SRC trial, where he is accused of seven counts of abuse of power, money laundering and corruption involving RM42 million taken from the company.
The Edge is reporting the proceedings of the SRC trial live.
Users of The Edge Markets app may tap here to access the live report.