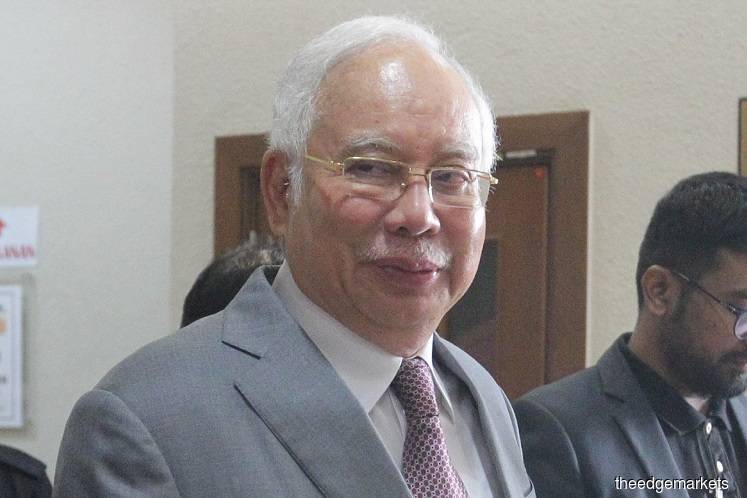 KUALA LUMPUR (Dec 9): Datuk Seri Najib Razak today denied that he had abused his power as a civil servant, regarding the two government guarantees (GGs) given to SRC International Sdn Bhd on Aug 17, 2011 and Feb 8, 2012 by the Cabinet.
Testifying in his defence on the seven charges for criminal breach of trust, abuse of power and money laundering, Najib said he wants the court to look at all the evidence, including those from himself, as a whole.
"I would like to repeat that all actions regarding the two GGs, the Retirement Fund Incorporated loan and SRC and other things are done in the interests of the Malaysian government and the Finance Ministry.
"I would like to repeat that I have no knowledge or involvement in the transaction and want the court to look at the evidence as a whole and also my testimony that shows I am innocent," he said.
Prior to this, he added he would declare his interests in Cabinet meetings as the need to abide with the Code of Ethics.
Citing the Cabinet decision involving CIMB and Malaysia Resources Corp Bhd (MRCB), involving Datuk Nazir Razak (CIMB chairman) and Datuk Johari Razak (as MRCB director in 2015), the former premier said he had declared his interests.
"I would declare my interests and would excuse myself from any decision on the Cabinet," he said.
Asked why he did not declare his interests in SRC in the Aug 17, 2011 and Feb 8, 2011 meetings, Najib replied he does not have any interests in SRC, despite also being the Finance Minister.
"I am only a minister that supervises SRC, which is under the Minister of Finance Inc that is owned by the Malaysian government. The thought never crossed my mind there would be conflict.
"Minister of Finance Inc as a whole owns hundreds of companies and when Cabinet meetings come, normally it would not be recorded in the Cabinet history that the Finance Minister or the Second Finance Minister have to [be] neutral and leave the meeting.
"In my 33 years [of] history in the Cabinet, I have never seen or observed any ministers in charge of finance exclude himself on any decision in relation to companies that are wholly owned by the Minister of Finance Inc on the policy this is a formal interest and not a personal interest of the minister involved in finance," he said.
Earlier, the former premier denied knowing that the purported funds totalling RM42 million originated from SRC, and he got to know that there would be additional donations coming from King Abdullah of Saudi Arabia in 2014.
The Edge is reporting the proceedings of the SRC trial live.
Users of The Edge Markets app may tap here to access the live report.