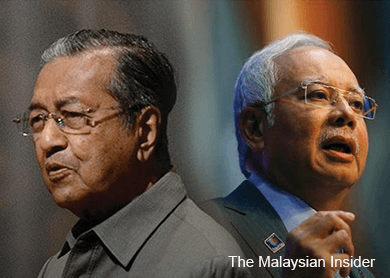 (April 10): Malaysian Prime Minister Najib Razak said he will remain leader for as long as he has the mandate of his party and citizens, brushing off calls from former premier Mahathir Mohamad for him to step down over alleged mismanagement of the economy.
Najib said he is open to criticism of his leadership and will address gaps in his administration, while adding he needs to make decisions in his role as prime minister and head of the United Malays National Organisation, according to an interview on national television Thursday. The country's economic fundamentals remain strong, he said.
Najib, 61, has seen his approval rating slide to around 40 percent as he seeks to undertake unpopular economic measures to plug a budget gap, and amid concern rising debt at a state investment company is threatening the nation's credit rating. The ringgit is among Asia's worst performing currencies this year as a decline in global crude prices hurt the oil exporter's finances.
"I consider the validity of every criticism," Najib said. "Whatever the individual opinion, in the end, I will be responsible to the people and the party."
Mahathir said this month that Najib has lost the trust of Malaysians, and their party UMNO would lose the next general election if he stays as leader. His predecessor Abdullah Ahmad Badawi stepped down in 2009 after Mahathir led calls for his resignation.
Lawmaker Support
Lawmakers from Najib's ruling coalition have defended him against Mahathir's criticisms, and made public shows of support. Deputy Prime Minister Muhyiddin Yassin said Thursday that Mahathir should let the government do its work even if he doesn't agree with its decisions, the state news agency Bernama reported.
Najib said Thursday he and Mahathir disagree on Malaysia's cash handout program to low-income citizens, and a bridge that the former premier once proposed to replace an existing one linking the country to Singapore.
"He has one or two things that he wants me to do," Najib said of Mahathir. "I regard this as a discussion between two individuals. It is quite healthy if there is a difference of opinion but, regardless, in the end I have to be responsible to the people and party. And most of these matters, I bring to the Cabinet and the Cabinet decides."
Rising Debt
The wide-ranging interview covered topics from 1Malaysia Development Bhd. -- the state investment company whose borrowings had reached 41.9 billion ringgit ($11.5 billion) through March 2014 -- to the 2006 murder of a Mongolian woman who was linked to one of Najib's former advisers.
1MDB's assets exceed its liabilities and the company must be given time to develop or liquidate its holdings so that it can settle its loans, Najib said Thursday. 1MDB flirted with default earlier this year after delaying payment on a 2 billion ringgit loan.
Fitch Ratings said last month Malaysia's credit rating is "more than 50 percent likely" to be downgraded, with developments around 1MDB reflecting weakness in governance as the company struggles to meet debt obligations.
Najib spent the bulk of the hour-long interview addressing issues that Mahathir had brought up in recent months, including the implementation of a goods and services tax. The prime minister said the country needs additional sources of revenue as oil prices fall and the government has taken steps to ease the burden of the consumption levy on the poor.
Not Collapsing
"We should not allow certain issues to be highlighted as though our economy is collapsing, or that we are having problems to the point that they cannot be resolved," Najib said. "This is not true at all."
Malaysia's parliament this week passed an anti-terrorism law that would allow suspects to be held for years without trial, bringing back security measures repealed in 2012 that were used mostly against the government's political opponents.
The anti-terror laws are necessary to prevent attacks in the country and curb violent extremism, Najib said. The country, like some others in Southeast Asia, has been grappling with the challenge of Islamic State and its citizens going to the Middle East to fight.
Malaysia also needs laws that will prevent hate speech and strife, Najib said. He had backed away from a pledge to repeal the Sedition Act in November, keeping a law dating back to 1948 when Malaysia was under British rule that curbs free speech and has been used against opposition lawmakers.