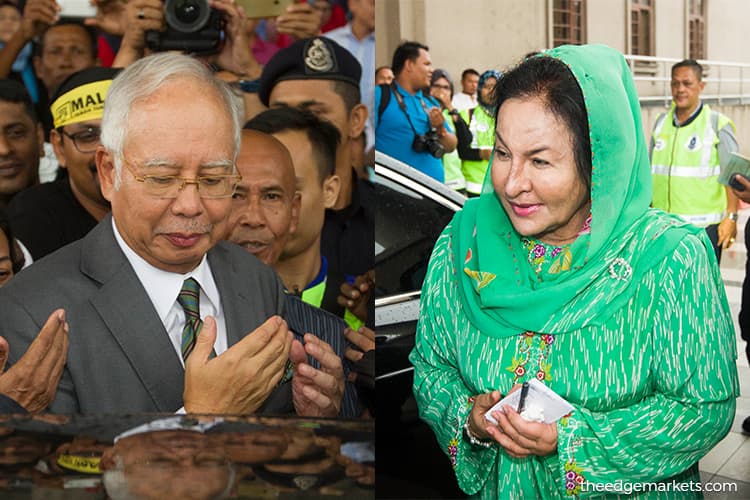 KUALA LUMPUR (March 25): Former prime minister Datuk Seri Najib Razak and his wife Datin Seri Rosmah Mansor want further documents from businessman Deepak Jaikishan in a suit brought by him against the couple for allegedly exerting pressure on him to settle taxes.
Najib and Rosmah filed a discovery application at the High Court on Dec 31 last year, Deepak's lawyer, Irwan Iswat Mohd Noor, told theedgemarkets.com today.
He added that Umno politician Datuk Seri Abdul Azeez Abdul Rahim, who is the third defendant in the suit, filed a similar application on Jan 22.
Senior Assistant Registrar Izzatul Nawwarah Idrus has fixed April 22 for the hearing of the applications before Judge Datuk Azimah Omar.
Najib and Rosmah, in their application, said they want the filing of their statement of defence be deferred pending the full disposal of this discovery application.
The documents which they seek to compel Deepak and two others to produce are those that have been referred to in the suit. They said they need to see the documents before being able to "demur or admit averments" in the suit.
Abdul Azeez, in his application, argued that he should be given an opportunity to inspect the documents before replying to the allegations made by Deepak in the suit that make reference to the documents.
Deepak, 46, together with his younger brother Rajesh Jaikishan, 45, and Carpet Raya Sdn Bhd, filed the suit on Nov 15 last year, seeking a declaration from the High Court that Najib and Rosmah were responsible to exert pressure on them to pay tax arrears owed by them to the Inland Revenue Board (IRB).
In the statement of claim, Deepak said that between 2004 and 2010, he and Carpet Raya had allegedly acted as agent and proxy to Najib and Rosmah in land transactions related to Najib and other business deals as instructed by the couple.
He also claimed that Abdul Azeez acted as an agent for Najib and Rosmah, to carry out the transactions and acted as the intermediary between the couple and Carpet Raya.
Deepak claimed that as a result of the transactions, he received a letter from the IRB in March 2018, asking him to settle the arrears in tax owed by Carpet Raya and his income tax, totalling more than RM6 million, excluding penalty charges and interest.
He said he and Carpet Raya were required to pay the tax arrears in instalments for 24 months from January 2018 until December 2019 in line with the decision given by the Ministry of Finance through a letter dated Sept 21, 2017.
Deepak claimed that he received the letter from IRB after his relations with the couple soured in 2012 following his refusal to follow their instructions in a civil case involving private investigator P. Balasubramaniam, and further claimed that Abdul Azeez had knowledge of the matter.
He said Najib and Rosmah also ordered legal action to be taken by IRB against Carpet Raya and a winding-up petition was filed against the company in March 2017, and the petition was published in the newspapers.
Deepak claimed that as a result of the petition, the business and reputation of all the plaintiffs were affected, and that he was banned from leaving the country. Further, he claimed that their business facilities were withdrawn by Maybank and the company's contract with Ikea was cancelled.
The plaintiffs are seeking a court declaration that Najib and Rosmah are responsible for paying the tax arrears owed by the company.
They are also seeking damages of RM500,000 which was paid to Maybank, RM47 million for the company's inability to fulfil its contract and sales, RM74 million for cancellation of the company's contract with Ikea, RM200 million for alleged defamation, and RM37 million being losses caused by Najib's misconduct.
They are also seeking RM100 million in aggravated and exemplary damages.
Deepak was named as one of the nine defendants — along with Najib and Rosmah — in a suit brought by the widow of the late private investigator Balasubramaniam following his exile to India for five years between 2008 and 2013 after a statutory declaration made by Balasubramaniam in relation to Mongolian national Altantuya Shaariibuu's murder.