This article first appeared in The Edge Financial Daily, on October 15, 2019.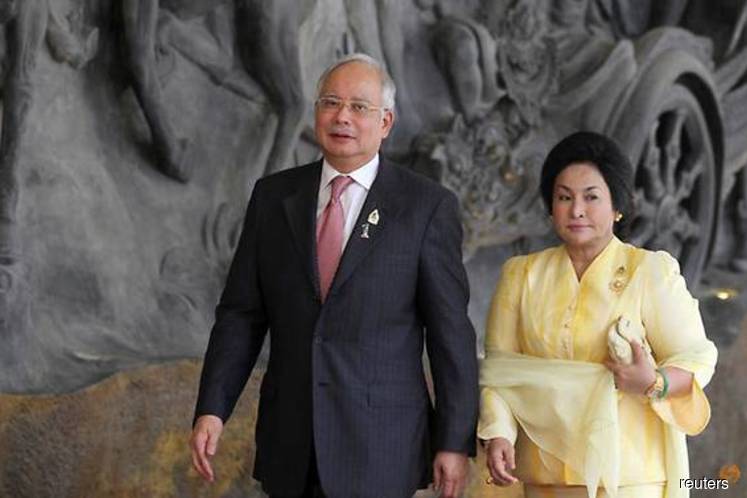 KUALA LUMPUR: Colour photographs of the items seized in the 1Malaysia Development Bhd (1MDB) civil forfeiture suit against former prime minister Datuk Seri Najib Razak and his wife Datin Seri Rosmah Mansor will be shown to them to be identified.
The plaintiffs of the case, led by Deputy Public Prosecutor Fatnin Yusof, were told by High Court Justice Mohamed Zaini Mazlan yesterday to share the colour photographs and proper descriptions of the items for Najib and Rosmah to identify whether they were personally purchased or gifted by the duo's acquaintances.
The clients were also to be consulted whether the photos would be sufficient for the purpose of identification. The applicants had no objections to the order.
Counsels for the applicants, led by Tan Sri Muhammad Shafee Abdullah (for Najib) and Iskandar Shah Ibrahim (for Rosmah), had initially requested for the items to be inspected physically by their clients.
However, Fatnin insisted that the application should be dropped as the sharing of photographs should be sufficient for the purpose of identification.
As such, Muhammad Shafee and Iskandar had requested that their clients be given two weeks to identify the items through photographs. The case is set for another mention on Nov 15.
On May 8, the government and the Royal Malaysia Police filed a civil forfeiture suit against Najib, Rosmah and several others in relation to jewellery, cash, handbags and luxury vehicles said to have been bought using 1MDB funds.
The notice of motion was to seize RM31 million worth of items, including 27 luxury cars, cash including in foreign currencies, 29 bank accounts, as well as more watches and bags.
Last year, the police conducted a raid on several residences and offices linked to Najib to retrieve various valuables.
It was reported that the cumulative value of the items seized from the raids was estimated at between RM900 million and RM1.1 billion, making it the biggest seizure in the country's history.
The items are currently in the custody of Bank Negara Malaysia.