This article first appeared in The Edge Financial Daily, on July 17, 2019.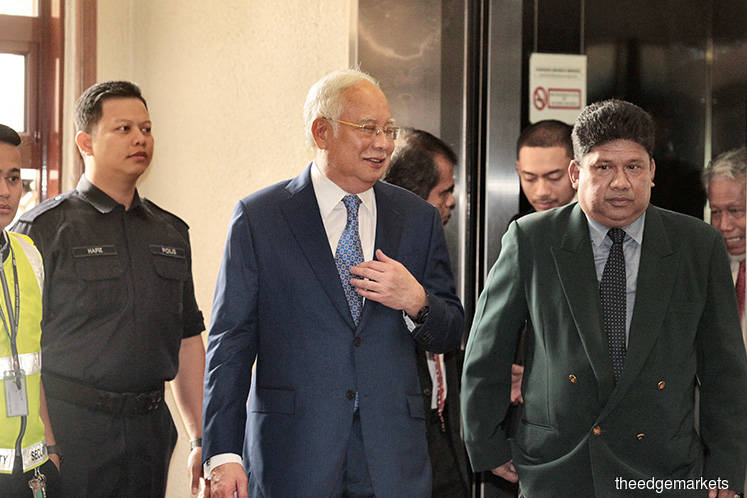 Former prime minister Najib (second from left) arriving at the Kuala Lumpur High Court yesterday. Photo by Suhaimi Yusuf
KUALA LUMPUR: Former prime minister Datuk Seri Najib Razak says he used up the RM3 million limit on his credit cards to purchase gifts for a senior member of the royalty of a certain government, but did not name the person.
In a Facebook posting yesterday, he said gifts were bought for the royalty and the royalty's entourage, who have good ties with Malaysia, during a trip to Italy on Aug 8, 2014, although he pointed out that it was not the royal family of Saudi Arabia nor Abu Dhabi.
"It is normal to give gifts to other leaders. Usually the government will bear the cost of the gifts (such as when the fourth prime minister gave a big gift to Zimbabwean President Robert Mugabe), but I had paid for the gifts using my own credit cards," he said, referring indirectly to Tun Dr Mahathir Mohamad.
He added that the gifts were received as the recipient had replied with a letter dated Aug 15, 2014.
Najib declined to reveal the name of the recipient except that the original letter will be presented in court as evidence. "There will also be an explanation from my lawyer."
On Monday AmBank senior vice-president Yeoh Eng Leong testified that the former premier had racked up charges amounting to RM3.9 million on his two platinum credit cards in several transactions from 2014 to 2015, including those made at an Italian jeweller and a luxury hotel in Thailand.
Yeoh was the 47th prosecution witness in the ongoing SRC International Sdn Bhd trial.
Yeoh confirmed that the transactions were made with Najib's Visa and MasterCard platinum credit cards that were linked to his AmBank account ending 880.
The payments include eight transactions with Swiss luxury jeweller De Grisogono in Italy totalling RM3.3 million in August 2014, RM466,330 spent in Hawaii in December 2014 and RM127,017 paid at Shangri-La Bangkok.
There were also other transactions under Chanel, The House of Bijan and Hugo Boss, among others.
The two cards, with a combined limit of RM3 million, were cancelled in April 2015.