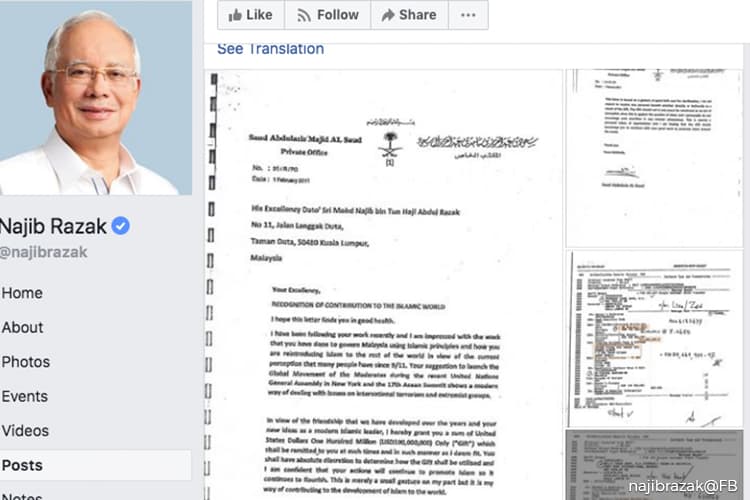 KUALA LUMPUR (Sept 11): Former prime minister Datuk Seri Najib Razak yesterday uploaded certain documents on Facebook which he claimed were proof that the Saudi Arabian royalty had donated US$100 million to him back in 2011.
According to one of the documents, which appears to be a letter from Saudi Prince Abdulaziz Al-Saud dated Feb 1, 2011 and addressed to Najib, the latter was gifted with the money in recognition of his contribution to the Islamic world.
"In view of the friendship that we have developed over the years and your new ideas as a modern Islamic leader, I hereby grant you a sum of United States Dollars One Hundred Million (USD100,000,000) Only (Gift) which shall be remitted to you at such times and in such manner as I deem fit. 
"You shall have absolute discretion to determine how the Gift shall be utilised and I am confident that your actions will continue to promote Islam so it continues to flourish. This is merely a small gesture on my part but it is my way of contributing to the development of Islam to the world. 
"This letter is issued as a gesture of good faith and for clarification, I do not expect to receive any personal benefit whether directly or indirectly as a result of the Gift. The Gift should not in any event be construed as an act of corruption since this is against the practice of Islam and I personally do not encourage such practices in any manner whatsoever. This is merely a personal token of appreciation and I am hoping that the Gift would encourage you to continue with your good work to promote ISlam around the world," the letter read.
In his post, Najib said the Saudi royal family decided on making the donation following the Arab Spring uprising in late 2010 in Africa and the Middle East.
"The late King Abdullah was very worried at the time and had acted to finance leaders and Islamic governments with a large sum of money to preserve stability. At the time, prices of oil were at their highest and Saudi Arabia had earned a lot of revenue from that," he said.
The late king had the same worries after learning there could be a Malaysia Spring brewing then, Najib said.
"Based on his worries and our close relationship, in early 2011, he promised to also prepare funds for me and the party for our use in Malaysia," Najib said, adding the late king had not wished for the contribution to be publicised. 
"[But] given that I am no longer the prime minister and King Abdullah has passed away (Al-Fatihah), I feel it is appropriate that I reveal the documents and cleanse my name from various accusations and slander."
Najib said the bulk of the money given to him was used for Barisan Nasional's political purposes, citing the purchase of a few vans for Umno Johor as an example. 
"This letter dated Feb 1, 2011 is the first of several letters from the same prince that were sent to me, together with other donations in the years after," Najib said. The donations were deposited into his Ambank account, he said, adding the transactions were never flagged by the bank or Bank Negara Malaysia because these letters were provided as confirmation of the donations.
He said the Saudi Arabia Foreign Ministry has twice confirmed the donations to him without any conditions attached. However, Prime Minister Tun Dr Mahathir Mohammad was disappointed that Saudi Arabia had refused to deny that the RM2.6 billion he received was also a donation, he added.
"In my upcoming FB (Facebook) post or via a media interview, I will explain further with proof, [and] I will also explain the donations I received in the years after 2011, including the issue of the RM2.6 billion," he added.