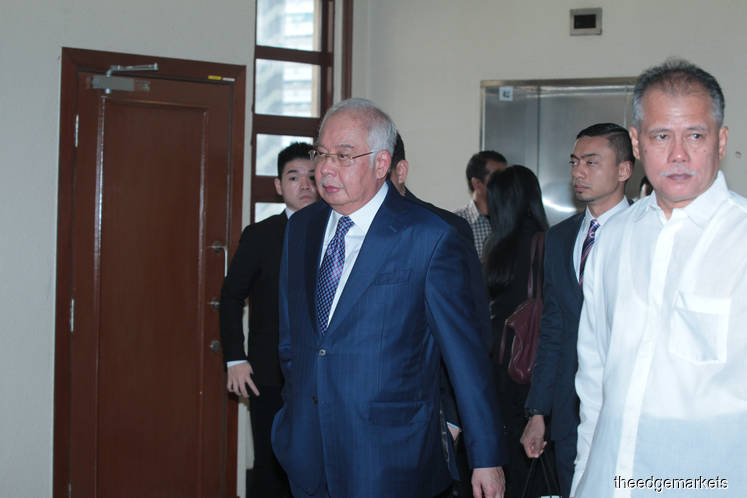 This story has been updated for accuracy.
KUALA LUMPUR (Sept 25): Former premier Datuk Seri Najib Razak paid himself RM120,000 per year as allowances for being the chairman of the board of advisers (BOA) of 1Malaysia Development Bhd (1MDB), the High Court was told today.
This quantum, according to former 1MDB CEO Datuk Shahrol Azral Ibrahim Halmi, was decided by Najib himself following a 1MDB director's circular resolution dated June 6, 2010.
"The resolution approved an annual remuneration of RM120,000 to Najib as chairman of the board of advisers, [while] RM96,000 [was paid to] members of that board.
"The allowance was set by Najib himself, after which the board of directors (BOD) [rubber-stamped] it," added Shahrol.
Najib was chairman of 1MDB's BOA owing to his capacity as the Prime Minister and Finance Minister which held the special share in 1MDB.
Besides this, Shahrol revealed that the remuneration of 1MDB's BOD was proposed by fugitive financier Low Taek Jho and approved by Najib.
Shahrol, 49, testified that the 1MDB directors' fees requested for the financial year ended March 31, 2011 was in fact a suggestion of Low, or better known as Jho Low, who told him that Najib agreed to the amount and that the matter was effective April 1, 2011.
Reading from his 270-page witness statement here today, Shahrol said he then prepared a letter dated Feb 2, 2012 which contained the proposal for 1MDB directors' allowances and payments.
The letter was then delivered to Najib for written approval. The former premier had signed and made a handwritten side note that read "YBhg Tan Sri Lodin, Bersetuju dengan cadangan ini (YBhg Tan Sri Lodin, agree with this suggestion)" on the same day.
The payout is RM230,000 for Tan Sri Lodin Wok Kamaruddin (1MDB chairman), and RM179,000 for each director — Tan Sri Ismee Ismail, Datuk Ong Gim Huat, Shahrol and Ashvin Jethanand, the witness said.
During examination-in-chief by lead prosecutor Datuk Seri Gopal Sri Ram, the prosecution's ninth witness admitted that he had met Ong's sister in Singapore but cannot recall her name.
Sri Ram then asked the witness about the nature of Najib and the Penang-born businessman's relationship. Shahrol said they have a symbiotic relationship, as this is the impression he got from their relationship between 2009 and 2010.
Sri Ram: What impression did it put on your mind on the relationship between the accused and Jho Low?
Shahrol: If I could use a biological term, Yang Arif, the relationship was symbiotic.
Sri Ram: Symbiotic.
Shahrol: Symbiotic in the sense that Jho executed what DS Najib wants and DS Najib's role is to approve whatever decisions that were required.
Sri Ram: Required by whom?
Shahrol: Required by not only the company, but also the government machinery.
The witness will be continuing his testimony this afternoon in the trial where Najib is charged with four counts of abuse of power and 21 counts of money laundering to the amount of RM2.28 billion.
The Edge is reporting the proceedings of the 1MDB-Tanore trial live.
Users of The Edge Markets app may tap here to access the live report.
See also:
Shahrol: Najib never explained why he didn't sign agreement for 1MDB-PSI JV with Saudi Arabia's King Abdullah
Shahrol: 1MDB was not audited by National Audit Department as evaluation a political risk to Najib