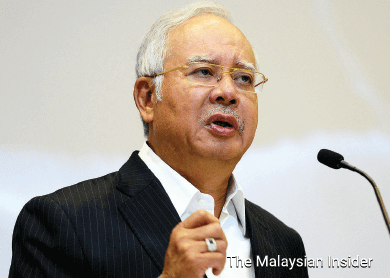 (June 5): Prime Minister Datuk Seri Najib Razak is unlikely to attend a highly anticipated public forum on 1Malaysia Development Bhd (1MDB), even though organiser SukaGuam is still negotiating with police for the event to continue as scheduled.
Channel News Asia reported that an aide of the prime minister's has confirmed that Najib would not attend the dialogue, where his arch critic Tun Dr Mahathir Mohamad is already present.
However, despite a directive from Inspector-General of Police Tan Sri Khalid Abu Bakar, SukaGuam said it was still negotiating for the forum to proceed.  
An announcement was made in the packed hall telling attendees who included ministers and members of civil society that the organiser was in contact with the police to get Datuk Seri Najib Razak to attend the dialogue as scheduled.
Titled "Nothing to Hide", the forum was to have started at 10am today at the Putra World Trade Centre.
Khalid had earlier tweeted that the dialogue should be called off on grounds of "public order and national harmony".  
"The organiser wants to continue with the programme this morning despite the directive from the IGP.
"But we are still in discussion with the police," said the master of ceremonies to the crowd of more than 1,000 people in the hall.
This caused an uproar, with many demanding that Najib attend and the emcee urging them to keep calm.
The forum was organised purportedly to let Najib clear the air with civil society and non-governmental organisations over 1MDB, the state investment firm under the Finance Ministry which has been accused of mismanagement and opaque dealings resulting in RM42 billion debts.
Dr Mahathir has been Najib's chief critic over 1MDB, of which the prime minister is advisory board chairman.
SukaGuam had a few days ago confirmed that Najib would be attending the forum. – The Malaysian Insider