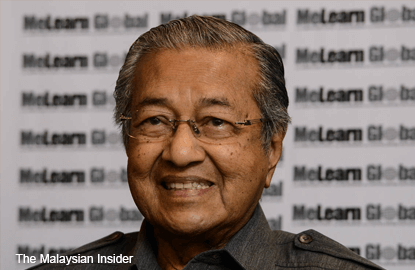 KUALA LUMPUR (Feb 5): Tun Dr Mahathir Mohamad again attacked Attorney-General Tan Sri Mohamed Apandi Ali over his "no further action" decision against the prime minister, saying the finding was meaningless as the government lawyer had no credibility.
The former prime minister also said Datuk Seri Najib Razak should resign in order for Malaysia to regain its reputation.
"To clear Malaysia's good name and his own, Najib must prove beyond a shadow of doubt that he is innocent of all the accusations against him. The A-G saying he is innocent means nothing.
"He, the A-G, has no credibility.
"Failing this Najib should resign," Dr Mahathir wrote in his blog today.
All others who had been "covering up" for the prime minister over his alleged involvement in financial scandals should also resign, he added.
"Malaysia must be freed from a prime minister with such a bad reputation if it is to regain its reputation."
Dr Mahathir said Malaysia was once admired for its transformation from an "impoverished third world country" into a "stable industrialised economy".
But Malaysia was now the target of negative comments with foreigners commenting on 1Malaysia Development Bhd (1MDB) and the country's "corrupt government which has lost billions of dollars".
"Many comment on the lavish lifestyle of the prime minister," Dr Mahathir added.
"They ask these questions because reputable foreign newspapers publish stories about 1MDB, about the prime minister having appropriated to himself billions of dollars, about huge amounts of money in his private accounts, about his lavish lifestyle."
Dr Mahathir has been criticising Apandi since the latter's decision in late January not to press charges against Najib over the RM2.6 billion donation and Finance Ministry-owned firm SRC International Sdn Bhd due to a lack of evidence.
The former prime minister said the A-G had acted as both judge and prosecutor in the matter. He also accused Apandi of being under Najib's control.
Earlier, Dr Mahathir had also criticised Apandi for closing the case on Bank Negara Malaysia's findings on 1MDB's inaccurate declarations for overseas investments.