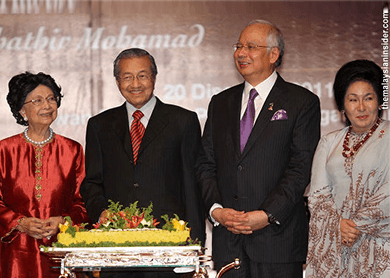 DATUK Seri Najib Razak has met Tun Dr Mahathir Mohamad to discuss the former PM's criticisms of national strategic investor 1Malaysia Development Berhad (1MDB), say sources.
The prime minister met Dr Mahathir on Saturday but details of the meeting have not been revealed.
"It was cordial. The PM is satisfied with the meeting," a source told The Malaysian Insider.
The meeting comes after the country's longest serving prime minister had repeatedly raised questions about the heavy debt and usage of funds at 1MDB in his blog and had complained about its operations via his blog as well as at various media conferences.
It also comes amid the ringgit's slide against the US dollar, which has caused a ballooning of part of 1MDB's debts which are in the greenback.
Today, The Edge Financial Daily reported that the depreciating ringgit would hurt 1MDB, which has a sizable chunk of its total RM42 billion in debts in the US dollar denomination.
This chunk, which amounted to RM22.25 billion according to 1MDB's financial statements for the financial year ended March 31, 2014, has now grown to about RM25.7 billion – an increase of about RM3.96 billion - due to the ringgit's decline by 6.5% in the past nine months.
The former prime minister in a posting in September had noted that 1MDB had spent billions of ringgit buying power plants from the Genting Group and tycoon T.Ananda Krishnan and had paid above market prices for them.
He also lamented that 1MDB is heavily indebted. It has debt of around RM38 billion after just five years in operation as the country's sovereign wealth fund.
"The money for 1MDB is not from the country's surpluses. It is debt, billions of ringgit of debt that has added to the already high national debt," Dr Mahathir wrote.
The former PM, who in an earlier posting had said he was withdrawing support from Najib, said as the government was already facing a deficit budget problem, it would not have the ability to help pay the 1MDB debt.
He also noted that a large part of the money raised from the issue of debt paper by 1MDB has been sent to the Cayman Islands, a move which many had questioned.
Critics have complained about the lack of transparency in how the money is managed out of the Caymans and it has been estimated that at least RM18 billion of 1MDB's money is parked there.
1MDB is Malaysia's second sovereign wealth fund after Khazanah Nasional Bhd.
Dr Mahathir had also questioned why the Umno annual general assembly held in November had failed to discuss a public interest issue like 1MDB.
A Penang Umno division leader, Datuk Seri Khairuddin Abu Hassan, has recently lodged a police report against 1MDB over its alleged dubious financial activities and massive borrowings.
His move subsequently led to him being criticised by the state Umno chapter, which had denied knowing of his intention to file the report. – December 22, 2014.