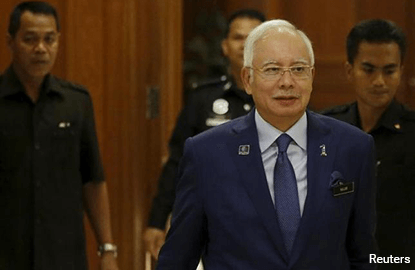 KUALA LUMPUR (March 30): Prime Minister Datuk Seri Najib said that one of the reasons that caused the people to face a heavy burden by the high cost of living was that the education level of most people remain low.
"This means if we only have an education level of SPM (the Malaysian certificate of Education), not achieving the level of diploma, degree, or not acquire any skills, we cannot find a job with higher pay.
"We need to improve by getting additional qualifications, which means we have to think beyond the 11 year basic education until SPM. We want more people to get qualifications, and when the people achieve higher qualifications or become an entrepreneur, therefore they can increase their income," Najib told the Dewan Rakyat today.
The Finance Minister said the the government will continue to sow this mindset to continue to achieve higher certificates into the mind of people.
Najib said this in reply to a supplementary question by Bagan Serai MP Dr Noor Azmi who has asked the Finance Minister whether it was an individual who has spent beyond their means that forces them to shoulder a heavy burden.
On the measures implemented by the government to reduce the cost of living, Najib reiterated the measures implemented by the government announced earlier in various Transformation Programmes, Budget 2016, the 11th Malaysian Plan.
These programmes includes Bantuan Rakyat 1Malaysia (BR1M), book voucher, Kedai Rakyat 1Malaysia (KR1M), increment on the minimum wages, and so on.
"The government believed these initiatives aim to relieve the burden of living cost; [and] will give positive impact through the empowerment of the people.
The government's holistic, short term and long term approach will indirectly help the nation's economic growth and contribute to a formation of more conducive and progressive social structure," he added.