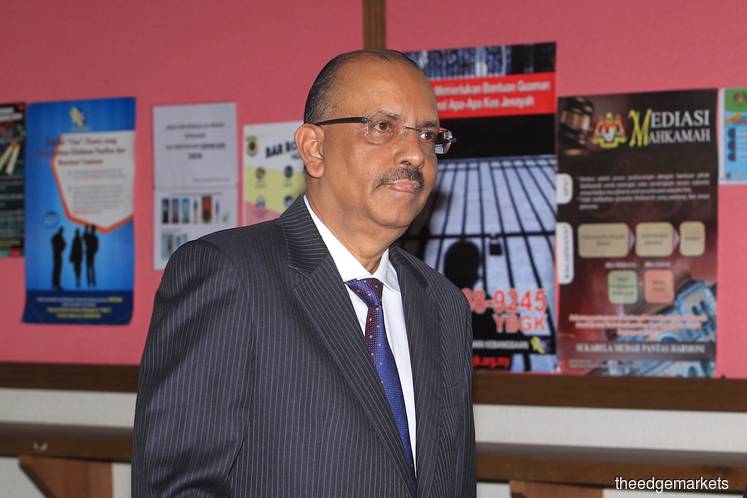 KUALA LUMPUR (Nov 19): Datuk Seri Najib Razak's mistrust of former Attorney General (AG) Tan Sri Abdul Gani Patail and former deputy prime minister (PM) Tan Sri Muhyiddin Yassin may have led to the ex-premier sacking both of them, said a witness.
Former chief secretary to the government Tan Sri Ali Hamsa (pictured), who is the fourth prosecution witness in the 1Malaysia Development Bhd (1MDB) audit report tampering trial, said this while testifying at the trial, which involves Najib and the fund's former chief executive officer Arul Kanda Kandasamy.
While acknowledging that the removal of Gani and Muhyiddin was Najib's prerogative as the then-PM, Ali also talked of a meeting between Gani and Muhyiddin at a shopping centre here before they were removed.
The witness was responding to several questions from senior deputy public prosecutor Datuk Seri Gopal Sri Ram.
Sri Ram: Can you explain the circumstances that Gani left?
Ali: There was no trust on Gani or the PM had lost trust in him.
Sri Ram: Why was this?
Ali: When I handed the letter to Gani telling that he would be released from the Attorney General's post, Gani replied he had expected it.
Sri Ram: Where did you get the letter from?
Ali: The letter was drafted by one Tan Sri Mazidah (Tan Sri Mazidah Abdul Majid, former Cabinet deputy chief secretary) together with Najib, who then took it to the Yang di-Pertuan Agong to be signed. I prepared a cover letter on it and signed the cover letter.
Sri Ram: Why did you sign the letter?
Ali: Because the chief secretary usually signs such documents.
Sri Ram: How did you come to be the one to give the bad news?
Ali: Najib said to give the letter to Gani and to not take any documents outside of the office.
On Muhyiddin's removal as deputy prime minister, Ali said Najib's former second-in-command had asked questions on 1MDB during cabinet meetings.
"Datuk Seri Najib was calm and answered some of the questions, while the Minister of Finance II answered others," said Ali.
When asked by Sri Ram when Muhyiddin was removed, Ali responded that it happened after he asked those questions during the cabinet meeting.
"It was one sided with Tan Sri Muhyiddin Yassin making all the noise, you know that something is coming up," Ali testified.
Gani was removed as AG on July 27, 2015 and subsequently Muhyiddin was also removed as Najib's deputy.
Najib has been accused of tampering with the final 1MDB audit report in order to gain protection from disciplinary, civil or criminal action before the report was finalised and presented to the Public Accounts Committee.
He allegedly committed the offence at the Prime Minister's Office in Putrajaya between Feb 22 and Feb 26, 2016.
The charge, framed under Section 23(1) of the Malaysian Anti-Corruption Commission Act 2009, carries a maximum of 20 years imprisonment and a fine of no less than five times the amount of gratification or RM10,000, whichever is higher.
Meanwhile, Arul Kanda has been charged with abetting Najib in the tampering of the audit report.
For more stories on the 1MDB audit report tampering trial, click here.