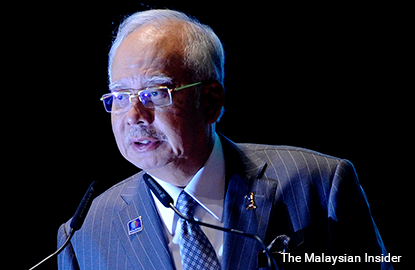 KUALA LUMPUR (Nov 12): Datuk Seri Najib Razak has extended his fullest cooperation to Malaysian Anti-Corruption Commission (MACC) over its investigation of the political donations, totalling RM2.6 billion, that was banked into the prime minister's personal account.
He said this is to allow the anti-graft body to complete its investigation soonest possible and to put an end to the "various allegations and slander".
"I will do so and give my statement to the MACC soon, over the political donations. I will give my cooperation and statement to the MACC, so that the investigation can be completed as soon as possible," Najib said in a statement today.
"It is my intention to fully cooperate in the investigation into this case, considering that it has resulted in various allegations and slander," he added.
He was responding to Attorney General Tan Sri Mohamed Apandi Ali's remarks in an interview with The Malaysian Insider yesterday (Nov 11), that MACC was given a deadline by the end of the year to record Najib's statement on the RM2.6 billion which he had received.   
    
In a separate statement today, MACC chief commission Tan Sri Abu Kassim said the agency is waiting for the prime minister to give them a date as to when he will give his statement.