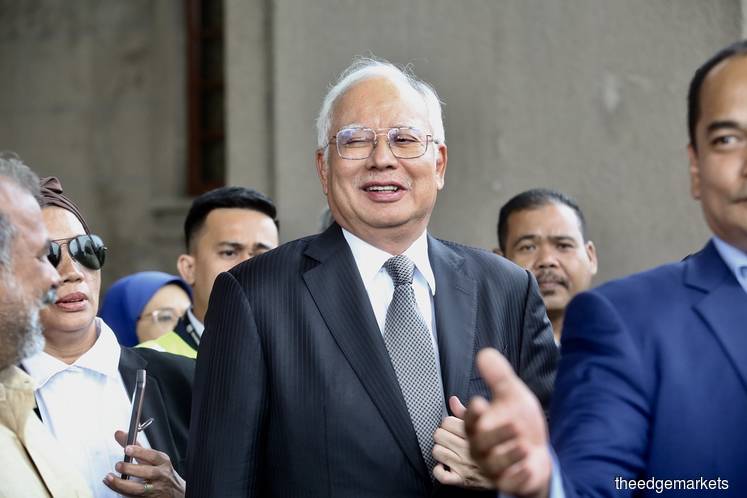 PETALING JAYA (May 13): Ex-prime minister Datuk Seri Najib Razak has slammed Pakatan Harapan's (PH) silence over the Ministry of Defence's four land swap deals that took place during Tun Dr Mahathir Mohamad's administration back in 1997, reported Free Malaysia Today (FMT) yesterday.
Najib told the news portal that it was "interesting" that the prime minister, defence minister and finance minister during that time were now all in the PH ruling coalition, "alluding" to Dr Mahathir, Syed Hamid Albar and Anwar Ibrahim, respectively.
"Although these cases involve the biggest losses, and the most blatant infringement of giving freehold status instead of a 99-year leasehold for the land, these are not among the cases reported to the Malaysian Anti Corruption Commission and police by the defence ministry last week," Najib said.
He also added that it was "interesting" that the Ministry of Defence has removed the report on the land swaps from its website shortly after news reports that the land swaps also took place during Dr Mahathir's time as prime minister.
"I wonder why. Actually, the Barisan Nasional government during my time had to spend a lot of time resolving these cases, including claiming for losses incurred from these projects," Najib told FMT.
Yesterday, the Malaysiakini news portal reported that the summary report revealed four Defence Ministry land swaps with "political considerations outweighing government interests" also occurred during Dr Mahathir's leadership in the 1990s.
Current Defence Minister Mohamad Sabu last week revealed that 13 of the 16 land swap deals carried out during the BN's rule of Putrajaya involved former defence minister Hishammuddin Hussein and Najib.
Mohamad, however, denied the involvement of Dr Mahathir in these cases.