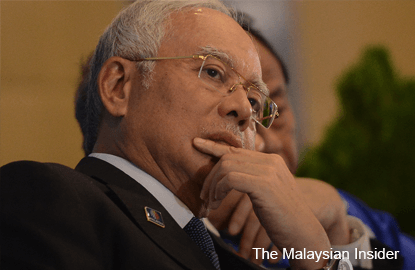 (Oct 1): Datuk Seri Najib Razak has been exempted from filing his defence over the RM2.6 billion deposited into his personal bank accounts pending the outcome of his application to strike out a suit brought by a sacked Umno member.
The Umno president has also been given a stay from filing affidavits to oppose Anina Saaduddin's attempt to freeze his assets and another application for a judgment on admission over his account details in the civil dispute.
Najib's lawyer Datuk Mohd Hafarizam Harun said judicial commissioner Mohd Zaki Abdul Wahab granted his clients applications as there were special circumstances.
"The judge held that if a stay is not allowed it will effect the defendant's (Najib) bid to strike out the suit," he said of the verdict made in chambers.
Hafarizam said that the judge ruled that the stay would also not prejudice Anina if Najib's defence was filed later should the strike out application be dismissed.
Case management for the strike out application has been fixed on October 6.
Anina's lawyer Mohamed Haniff Khatri Abdulla said he may likely apply for a stay on Najib's attempts to strike out her suit, pending the disposal of another suit by the former Umno member to challenge the termination of her party membership.
Hanif said that matter has been fixed for case management on October 9 before judicial commissioner S. Nantha Balan.
On August 28, Anina filed the suit on behalf of Umno against Najib to account for the money allegedly donated to Najib by a Middle Eastern individual to help the Barisan Nasional retain power in the 2013 general election.
She has since filed a separate suit to challenge her dismissal from the party.
On September 18, she also filed applications to freeze Najib's assets and judgment for admission.
Anina became famous after she criticised Najib at at the Langkawi division annual general meeting. Her tirade, in which she said the Umno president had "lied" to Umno members, were caught on video and went viral.
She said he lied for saying that the party's three million members fully supported him.
Najib is under pressure from over alleged financial wrongdoing in 1Malaysia Development Berhad, which he oversees as Finance Minister and chairman of its advisory board, as well as over the RM2.6 billion donation to his personal accounts which he said had been held in trust on behalf of Umno.
His fiercest critic is former prime minister Tun Dr Mahathir Mohamad, who has repeatedly asked Najib to resign. – The Malaysian Insider