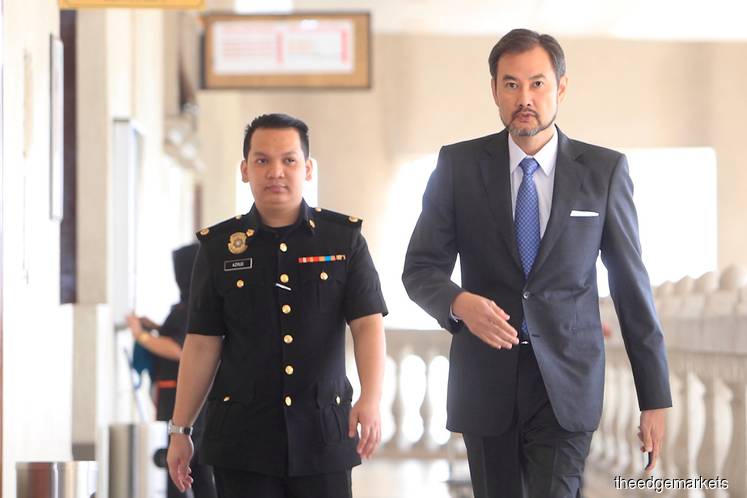 Former TIA and 1MDB CEO Datuk Shahrol Azral Ibrahim Halmi (right) — the ninth prosecution witness. (Photo by: Shahrin Yahya/The Edge)
KUALA LUMPUR (Sept 23): Datuk Shahrol Azral Ibrahim Halmi, former CEO of Terengganu Investment Authority (TIA) and later its federalised incarnation 1Malaysia Development Bhd (1MDB), described former premier Datuk Seri Najib Razak as being so close with fugitive businessman Low Taek Jho — better known as Jho Low — that he gave the Penang-born financier the mandate to plan and arrange the operations of the two entities.
Shahrol, the ninth prosecution witness who is expected to provide vital evidence and testimony in the 1MDB-Tanore trial against Najib, said he saw how Jho Low had demonstrated several times that he had easy access to the sixth prime minister and was "looking after Najib's interests from the start".
"Furthermore all actions underlined by Jho Low would be agreed by the former premier himself. The businessman is given the mandate to plan and arrange the operations of TIA, which later became 1MDB, from behind (the scenes). This observation is made through the various talking points and action plan prepared by the businessman.
"Jho Low was also a facilitator between the Terengganu Sultan, Sultan Mizan Zainal Abidin (when he was the Yang-dipertuan Agong), and Najib in representing the Federal Government. But he is seen as one of the vital people for the former premier in looking after Najib's interests from the start," said the witness.
Shahrol, a 49-year-old qualified engineer who hails from Temerloh, Pahang, added that he observed how Jho Low has direct access to Najib.
"For example, during the TIA board of directors meeting, Jho Low can contact Najib directly through the phone to ask for his opinion and guidance and he was able to meet Najib at his house —  either at Jalan Langgak Duta in Kuala Lumpur, or the then Deputy Prime Minister's official residence Sri Satria in Putrajaya.
"In March 2009, Jho Low asked me to come to Najib's official residence Sri Satria to meet with the CEO of Mubadala. There, I clearly saw how the Penang-born businessman had direct access to Najib," he said in giving an example.
Jho Low formally appointed adviser in April 2009
Shahrol added when he joined TIA, Jho Low was considered an adviser to the entity in its formation, but he did not say who appointed him.
It was only on April 8, 2009, that a resolution was passed by TIA to formally appoint him as an adviser to ensure transparency, the witness said.
"However, before Jho Low's official appointment, his actions and role is consistent as TIA adviser to both the Terengganu and Federal governments. The April 8 letter was merely a formality over his role that he had from the start, before I joined TIA," Shahrol said.
The witness added that he saw Jho Low had from the beginning acted to protect the interests of Terengganu and the Federal government, especially when it came to investment and fund raising.
Shahrol said Jho Low has no formal powers to manage TIA but he can influence the decision made by the executives as he represented both parties, namely Sultan Mizan and Najib.
"Within TIA, I observed that Jho Low played a role as an adviser. In the operations of 1MDB, he had several times delivered what Najib wants. However, if it involves big decisions I would refer to Najib in writing to confirm what had been said by the businessman.
"I find that what Jho Low told me on these matters are consistent with Najib's feedback through the minutes and also verbally," he added.
Jho Low roped Shahrol into TIA
Shahrol said he had known Jho Low — who was then the managing director of UBG — as one of Accenture's customers when he worked for the professional services firm in 2007.
The witness recalled that during that time, he had a lot of interaction with the fugitive businessman and Jasmine Loo Ai Swan, who was the legal adviser for UBG.
He claimed that Jho Low had evaluated his character and personality after he described himself as a person who would follow directions unquestioningly.
"In the end, I managed to complete the job that he wanted my company to do. We continue our correspondence as I was appointed the managing director of Accenture and I was responsible for looking after our former clients and finding new job opportunities," he said.
"At the end of 2008, Jho Low contacted me and told me that he wanted to manage a fund involving a government body... I asked him if he needed any consultancy services from Accenture. He told me if there was a need, he would certainly inform me," the witness added.
In mid-March 2009, Shahrol said Jho Low asked him if he would be interested to join TIA, which would be a sovereign wealth fund to help with Terengganu's long-term socio-economic development.
The witness said that at that time he felt he wanted to change directions and was interested in the job, hence he gave Jho Low his Curriculum Vitae (CV).
Prior to that, he had also given his CV to Tan Sri Azlan Zainol, his client and eventually a board member of TIA.
He added that on March 21, 2009, Jho Low contacted him again, asking him to come to the Istana Terengganu in Kuala Lumpur that same afternoon.
"There I saw Azlan and it was during that time I knew that Jho Low had suggested my name to Sultan Mizan, who was the TIA chairman, to appoint me as one of the directors and CEO of TIA.
"Following the introduction, I was formally appointed as TIA CEO via a director's circular's resolution that was signed by Tan Sri Bakke Salleh," said Shahrol on his early involvement in TIA.
When asked by appointed senior deputy public prosecutor Datuk Seri Gopal Sri Ram about how he knew Jho Low had direct access to Najib, the witness said he remembered that on Sept 26, 2009, the board was discussing the joint venture with PetroSaudi International Ltd (PSI). 
He said during the early board meeting, Jho Low called Najib and he immediately gave the phone to Bakke, who was chairing the meeting.
"Bakke returned slowly after the conversation and [told] the board that was the PM (Najib). There had been many instances where Jho Low said 'boss told me this and that'.
"I can remember one instance when Jho Low said boss asked that the joint venture with PSI be expedited, and we told him we had hardly enough time to come and meet with the board (to draft a resolution). The boss here is [referring] to Najib," he said in reply to questions from Sri Ram.
The witness will continue his testimony in the afternoon.
The Edge is reporting the proceedings of the 1MDB-Tanore trial live.
Users of The Edge Markets app may tap here to access the live report.