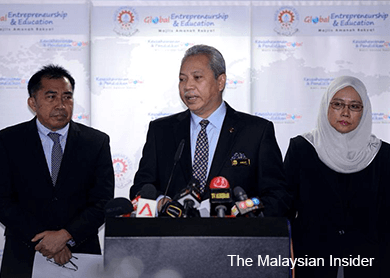 (June 24): Prime Minister Datuk Seri Najib Razak was involved in approving Mara's purchase of the Melbourne property that was alleged to have been bought in a scam, highlighted by The Age newspaper yesterday.
Mara chairman Tan Sri Annuar Musa said that the purchase of any property by the council had to go through procedures, including a final approval by the Finance Ministry or the Economic Council (EC)
Najib is finance minister and chair of the EC.
"It is part of the procedure for the prime minister to approve.
"After the purchase is approved by Mara, it goes to the Rural and Regional Development Ministry, and after that, it is approved by MoF or the Economic Council," Annuar said in a press conference at the Mara headquarters in Kuala Lumpur today.
In an exclusive report yesterday, The Age said a "top" Mara officer, senior official and former politician had allegedly spent millions of government funds to buy an apartment block in Melbourne in a property scam.
The Australian paper alleged that "a group of super-rich Malaysian officials" overpaid by A$4.75 million (RM13.8 million) for an apartment block in the city in 2013.
The trio had allegedly "overbid" for the building, called Dudley International House, from A$17.8 million to A$22.5 million (RM65.3 million), with the difference pocketed as bribes back home.
Australian developers of the property received sham invoices for fake services, such as "consultancy and advisory", from Malaysian firms, the paper said.
Admitting that The Age report was done "professionally", Annuar said it was not proper for Mara to deny any of the allegations in the article when asked if there was any truth to the claims.
"It is not proper for me to deny the allegations but we will allow an independent body to investigate this," he said.
Annuar said its subsidiary, Mara Incorporated (Mara Inc), which was set up in 2008, had begun the process to purchase the property in early 2012.
Mara then approved the purchase at the end of the same year, he said.
"To the best of our knowledge, all due processes in buying the property were followed by Mara Inc. But as for allegations that it bought the property at an inflated price, that is something that we need to investigate," Annuar said, adding that the Melbourne property was purchased before he became chairman.
Besides an internal probe, the Mara chairman said the Malaysian Anti-Corruption Commission should also look into the matter, adding that the council would give its full cooperation to any external investigations.
"There is no question of a cover-up. No one will be protected if there was any proof of misconduct. Stern action will and must be taken against those responsible.
"We are very serious about this. We will go by the book and those responsible will have to pay the price. We will leave no stone unturned," Annuar added. – The Malaysian Insider