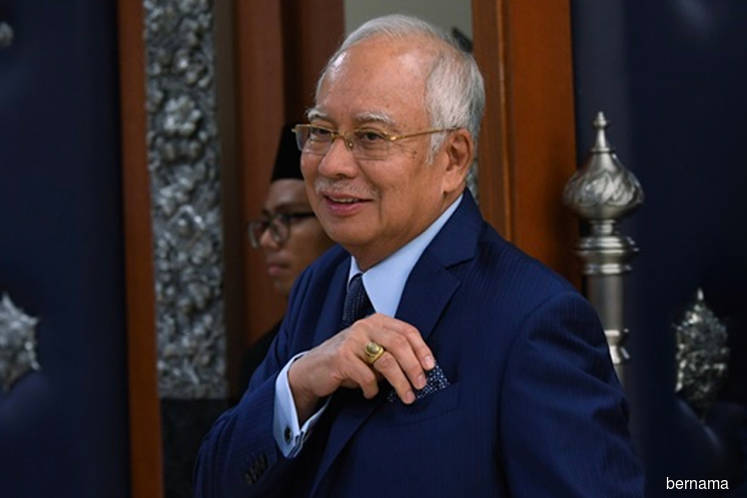 KUALA LUMPUR (March 12): Former prime minister Datuk Seri Najib Razak is of the opinion that the government should not sell off the loss-making national carrier Malaysia Airlines Bhd, and that the turnaround plan mooted during his tenure as prime minister to save the airline was working.
"It is a wrong move because Malaysia Airlines is our pride and joy. It should continue as our national airline. Almost every country has its own national airline, so we must have our national airline," Najib told reporters at the Parliament lobby today.
Najib added that the turnaround plan to save the national carrier was initiated during his tenure as chairman of Khazanah Nasional Bhd, and that the current government should stick with that plan.   
"Our turnaround plan was working. It needs a bit more time, therefore there is no reason why Malaysia Airlines should be sold off or even closed down. That will be a wrong move and definitely the rakyat will not support that move," he said.  
"When I was in office, we were confident we could do a turnaround. We had a major exercise of VSS (Voluntary Separation Scheme), a very humane VSS, and we pruned down the number of employees of Malaysia Airlines. We were about to take off some routes that were not profitable. But I think the airline was also affected by the downturn in terms of tourist arrivals into Malaysia, particularly from China," Najib added. 
Najib also denied that the previous administration was hiding the losses that should have been incurred in Khazanah for the past few years.  
"Every year during the time BN was in government, Khazanah achieved a profit of up to RM3-RM4 billion a year. But why in 10 months, suddenly they incurred losses of RM6.3 billion? Why were the assets depreciated by RM25 billion? These are the questions they (the government) need to answer," Najib stressed. 
When asked if he agrees to the privatisation of Malaysia Airlines, Najib pointed to the privatisation exercise in 1994 that Tun Dr Mahathir Mohamad did for Malaysia Airlines which turned out badly. 
"It depends, privatisation has not been the panacea. As you know, we privatised Malaysia Airlines before, during his (Tun Mahathir) time, and we had to buy it back at the same price as before. So it was a privatisation that went awry.
"We rescued that, and bailed them out. Privatisation is not a panacea; there are certain sets of conditions that have to be met, before you can say that it is the right solution," Najib said.