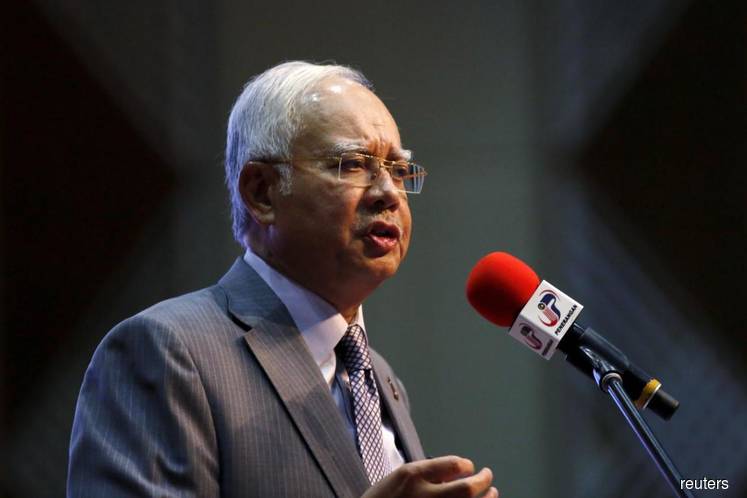 KUALA LUMPUR (Aug 10): Former Prime Minister Datuk Seri Najib Razak has denied the finance ministry's claim that his administration had misappropriated RM18 billion in input tax credits under the goods and services tax (GST).
Najib accused Finance Minister Lim Guan Eng of making a politically-charged baseless statement.
The ex-premier went on to accuse the current government of having used money from the consolidated trust fund for its monthly expenses due to a revenue loss from the three-month tax holiday.
Writing in his official Facebook page today, Najib said GST collections, similar to other tax collections and government revenue, are channelled directly to the consolidated trust fund. From there, he said the funds are transferred to the GST claims trust account every month to meet the provisions of the GST Act 2014.
"Hence, no funds were robbed because all the GST collections were put into the consolidated trust fund," he said.
"What might have happened was that when the Pakatan Harapan government zerorised the GST, businesses can claim all their GST input taxes immediately causing all of them to rush for the claims.
"The PH government may have already spent the money from the consolidated trust fund — that should have been transferred to the GST claims trust account — to cover the government's monthly expenses," Najib added.
He said it was typical of the PH government to divert the blame to the previous Barisan Nasional government.
This, he added, was similar to the "RM1 trillion national debt" claim, which according to him was an excuse for the PH government's inability to implement its election promises.
Najib asserted that he is ready to give his full cooperation as the former finance minister, to help with the investigation following the reports lodged with the police and the Malaysian Anti-Corruption Commission.
"If this claim is proven to be untrue, Lim Guan Eng has deceived the Parliament when he made these allegations. I strongly hope that the speaker of the Dewan Rakyat will no longer protect him because this august house is not a place to make baseless accusations and politically motivated allegations," he added.