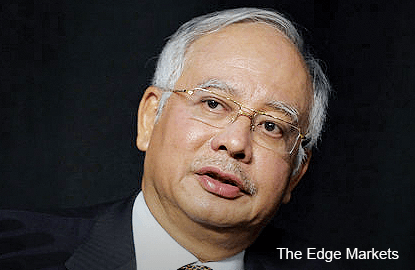 SHAH ALAM: Prime Minister Datuk Seri Najib Razak (pic) has defended Lembaga Tabung Haji's (LTH) purchase of a piece of land from state investment vehicle 1Malaysia Development Bhd (1MDB), saying that it generated RM170 million in profit.
He said the land purchase was a profitable move that benefited those keeping their money in the pilgrims' fund.
"Before this,there was talk that LTH money was being used to save 1MDB. Actually it was a land purchase, a business move that has brought RM170 million in profit to LTH," he said at a breaking of fast event with the press and bloggers yesterday.
LTH chairman Datuk Seri Abdul Azeez Abdul Rahim said Najib had asked LTH to sell off the land it bought for RM188.5 million a month earlier, in order to respect the "sensitivity" of depositors.
However, he defended the decision of the LTH board in making the purchase, saying that it did "no wrong" and it was merely a "commercial decision".
Najib, who is 1MDB's advisory board chairman, reiterated yesterday that the land purchase was not a bailout.
"Surely we won't be using the people's money to bail out 1MDB. That is not a responsible government," he said.
The land purchase by LTH sparked anger among various parties, especially depositors, as the deal involved 1MDB, a company reported to have accumulated RM42 billion in debt over recent years.
LTH bought the 1.56-acre (0.631ha) plot of land in the Tun Razak Exchange (TRX) project in Kuala Lumpur for RM188 million in April with a plan to build a residential tower.
1MDB had purchased the entire 70 acres of the TRX land from the government for a mere RM194.1 million.
Some critics viewed the purchase as a bailout to rescue 1MDB that was experiencing cash flow problems which were affecting its ability to pay back its debts.
Others also stressed that there was conflict of interest in the deal since several top executives at LTH also sat on the 1MDB board. — The Malaysian Insider
This article first appeared in The Edge Financial Daily, on July 3, 2015.