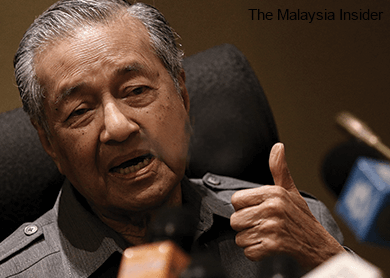 KUALA LUMPUR (Feb 2): The attorney-general (A-G) is under the control of the prime minister, Tun Dr Mahathir Mohamad told business paper Financial Times (FT) over the government prosecutor's decision not to frame charges against Datuk Seri Najib Razak due to a lack of evidence.
"I think the attorney-general is under the control of the subject of the investigation, the prime minister," Dr Mahathir was quoted as saying in the paper today.
Dr Mahathir — who has become Najib's fiercest critic — also described as "nonsense", A-G Tan Sri Mohamed Apandi Ali's reason not to take action, because the US$681 million (RM2.6 billion) donation had come from the Saudi royal family.
Apandi had said that there was no wrongdoing, because Najib had returned US$620 million in August 2013.
The total sum of US681 million had been put in the prime minister's accounts between March 22 and April 10 that year.
"In the first place, I don't believe the money was given by the Saudis, and I don't believe the balance was returned to the Saudis.
"If this is true, I want to know who gave, what is their financial position, whether indeed it was the king and what is the record of the banks, because such money must go through the banks, (it) must move from one bank to another," Dr Mahathir was quoted saying in a video that was posted on the FT website, along with the article.
Apandi also said there was not enough evidence to charge Najib over money that went to his accounts from Finance Ministry-owned firm, SRC International Sdn Bhd.
The A-G said Najib had no knowledge of the fund transfers, nor had he instructed any such transaction.
Dr Mahathir has been critical of Najib for more than a year, beginning with the latter's brainchild, state-owned investment firm 1Malaysia Development Berhad and other policies, such as Putrajaya's cash handout programme, 1Malaysia People's Aid (BR1M).