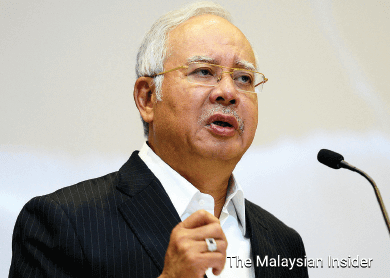 KUALA LUMPUR (June 18): Finance Minister Datuk Seri Najib Razak cited banking secrecy when asked the list of local banks that had issued loans to the debt-ridden 1Malaysia Development Bhd (1MDB).
Najib who is also the Prime Minister remained mum on whether these local banks would be impacted if 1MDB's debt was classified as non-performing loan (NPL).
An NPL is a loan on which the borrower is not making interest payments or repaying any principal.
"All information pertaining to financing of the banking institutions are governed by the preservation of secrecy under the Central Bank of Malaysia Act 2009.
"As such, the government cannot explain in detail and give specifics involving financing or financial institutions that are under the supervision of the Central Bank of Malaysia," said Najib in his written Parliamentary response to Gombak MP Mohamed Azmin Ali.
Azmin had asked Najib to state the list of local banks that had lent to 1MDB and the impact to the capital adequacy ratio of each bank if 1MDB debt is classified as NPL.
In February, it was reported that local bankers will trigger an event of default (EOD) if 1MDB failed to repay a RM2 billion loan for its power unit taken in May 2014.
This was after the loan has been rolled over twice and is part of a RM5.5 billion debt taken by 1MDB's subsidiary Powertek Investment Holdings Sdn Bhd.
Powertek took the loan last May to refinance a RM6.17 billion bridging loan taken in 2012 to part finance the purchase of power assets.
It was reported then that Malayan Banking Bhd has 58.99% of the RM2 billion loan while RHB Capital Bhd has 32.41%.
The other lenders are Alliance Investment Bank Bhd (4.06%), Malaysia Building Society Bhd (3.24%) and Hwang DBS Investment Bhd (1.29%).