This article first appeared in The Edge Financial Daily, on January 9, 2019.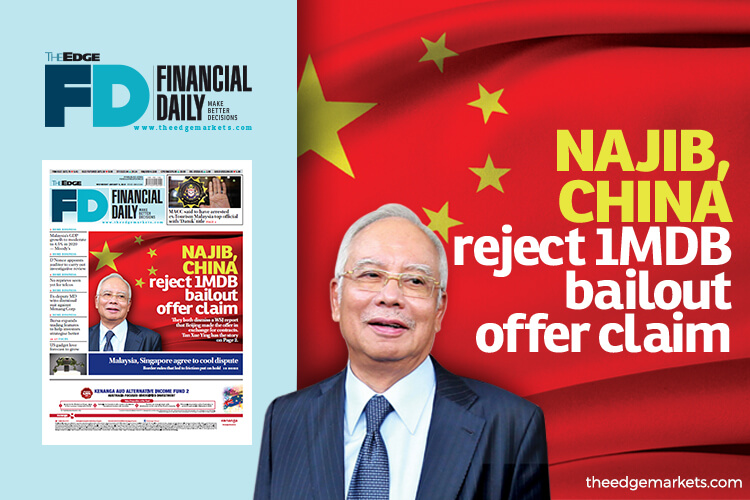 KUALA LUMPUR: Former prime minister Datuk Seri Najib Razak and Chinese officials have denied a news report claiming that Beijing had in 2016 offered to help bail out 1Malaysia Development Bhd (1MDB) in exchange for lucrative contracts.
"There has not been such a thing," Najib said in a statement posted on his Facebook account yesterday in response to The Wall Street Journal (WSJ) report on Monday.
Malaysia, said Najib, is committed to the settlement agreement with Abu Dhabi state-owned International Petroleum Investment Company (IPIC) to ensure that all money allegedly missing from 1MDB is returned by Dec 31, 2020.
Najib also dismissed the claim that the Chinese had offered to bug the homes and offices of WSJ reporters in Hong Kong who were investigating 1MDB.
He also denied that secret talks were held to authorise China's navy ships to dock at two Malaysian ports.
"Malaysia is a non-aligned country, and navy ships from any nation have the right to dock at Malaysian ports and do so frequently. This is a policy that has been implemented for decades," he said, citing the cases of USS America docking at Sepanggar, Sabah in August 2017, and the USS Blue Ridge at Port Klang in 2004.
In a separate statement, the Chinese embassy in Kuala Lumpur also dismissed the claims in the WSJ report, saying it has never attached political conditions to its cooperation with other countries.
"China has all along adhered to the principle of non-interference in the internal affairs of any other country. China never attaches political conditions on our cooperation with other countries.
"We promote the 'Belt and Road' Initiative under the principles of wide consultation, joint contribution and shared benefits, with an aim to pursue shared development and prosperity. We do not accept any groundless accusations made against China," said the statement.
It added that China is committed to working together with the Pakatan Harapan government under the leadership of Prime Minister Tun Dr Mahathir Mohamad to create a brighter future for China-Malaysia relations.
Citing minutes from a series of previously undisclosed meetings it reviewed, WSJ reported that Chinese officials told visiting Malaysians that Beijing would use its influence to try to get the US and other countries to drop their probes of allegations that allies of then-prime minister Najib and others plundered 1MDB.
In return, WSJ said Malaysia offered lucrative stakes in railway and pipeline projects for China's One Belt, One Road programme of building infrastructure abroad, and within months, Najib had signed US$34 billion worth of rail, pipeline and other deals with Chinese state companies, to be funded by Chinese banks and built by Chinese workers.
It added that documents reviewed by the paper showed that Malaysian officials suggested that some of these projects, including the East Coast Rail Link (ECRL) and Trans Sabah Gas Pipeline, be financed at above-market values, generating excess cash for other needs.
"All countries including the US have not halted investigations into 1MDB," wrote Najib in his Facebook post.
He also drew comparison to the RM4.6 billion 500km Sabah–Sarawak Gas Pipeline, which was awarded to an Indian consortium in 2008, to justify that the RM4.06 billion 662km-Trans Sabah Gas Pipeline project was not above market value.
"Although the ECRL has often been criticised by Pakatan over its high cost, there has been no evidence produced on the actual value which Pakatan claimed was RM30 billion," he said, adding that the claim was based on a 2009 study that proposed a 545km route as against the 620km route outlined later.
"The alignment was also changed to become more efficient, and to avoid the acquisition of too much land and houses from the people, and it requires building 50km of tunnels across the Titiwangsa range," he said.
Najib stressed that after the signing of the gas pipeline and ECRL projects, exports of palm oil and rubber from Malaysia to China had increased drastically.
"In my opinion, Malaysia has to exercise caution to steer clear of being involved in geopolitical affairs between major powers by merely basing things on media reports," he said.