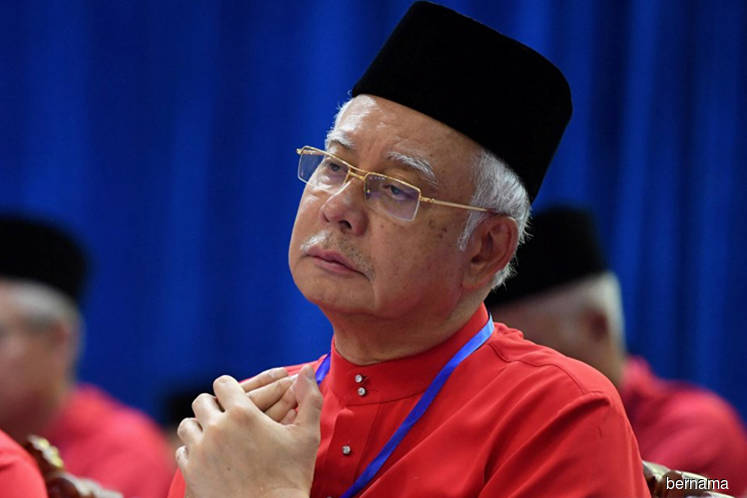 KUALA LUMPUR (Aug 15): Former Prime Minister Datuk Seri Najib Razak wants the Public Accounts Committee (PAC) to investigate the current government's claim that unpaid goods and services tax (GST) refunds totalling more than RM19 billion was misappropriated by the Najib administration.
"I believe (the amount) is not missing (but) PAC should do full investigation and come up with a report as soon as possible," Najib (BN-Pekan) told reporters at the Parliament lobby today.
Finance Minister Lim Guan Eng has claimed that RM19.248 billion was missing from the trust fund where GST input tax credits are kept. Only a sum of RM148.6 million was left in the fund, he said.
Lim alleged that the previous government had placed the money in the consolidated account, treating it as revenue.
An internal inquiry is ongoing, Lim said last week, adding that a public investigation would be conducted soon.
Najib had earlier accused Lim of making a politically-charged baseless statement.
The ex-premier alleged that the current government had used money from the consolidated fund for its monthly expenses due to a revenue loss as a result of the current three-month tax holiday.
Today, Najib said it is his right to defend the policies implemented during his time as premier and finance minister to counter alleged manipulation of facts by the current government.
"I am entitled to defend my policies and clear the misperception and some of the manipulation of facts and figures by the new government.
"That is only fair. Defence is a right given to any individual (and) that is why I am exercising my right to explain our policies and reasoning on certain things.
"For example the national debt. It has to be explained. It is not RM1 trillion, it was RM686 billion when I left," he said, referring to the current administration's statement that the national debt stood at RM1.087 trillion and not what was claimed by the previous government.
Najib, who was ousted after the Barisan Nasional lost the May 9 general election after being in power for more than 60 years, said he was resolute in wanting to explain to the people on several issues including the alleged ill effects of the sales and services tax (SST) compared to GST.
"Tony Pua (DAP-Damansara) said prices will go down (when SST is implemented) but (actually) prices will go up. It is my duty to defend (policies) ... because I am also an MP. Occasionally, I will speak in Parliament," he added.
Najib said his long-term vision for the country includes reducing the corporate tax and personal income tax in stages in order to remain competitive.
He claimed that the SST would not be able to stop illicit flows unlike GST, which was more transparent.
"This is what many do not understand. GST could address black economy where it would have controlled transfer pricing which is favourable to multi-national corporations. If our revenue drops, welfare aid would have to [be] reduced or cancelled," he said.
"When Prime Minister Tun Dr Mahathir Mohamad (first) resigned (in 2003), we did not question his policies although there were things we did not agree. But with the change of government now, they are looking for faults and it my right to defend the policies. The principle of being able to defend oneself is an inalienable right of any individual, so I will use that right," he added.