This article first appeared in The Edge Financial Daily, on August 24, 2018.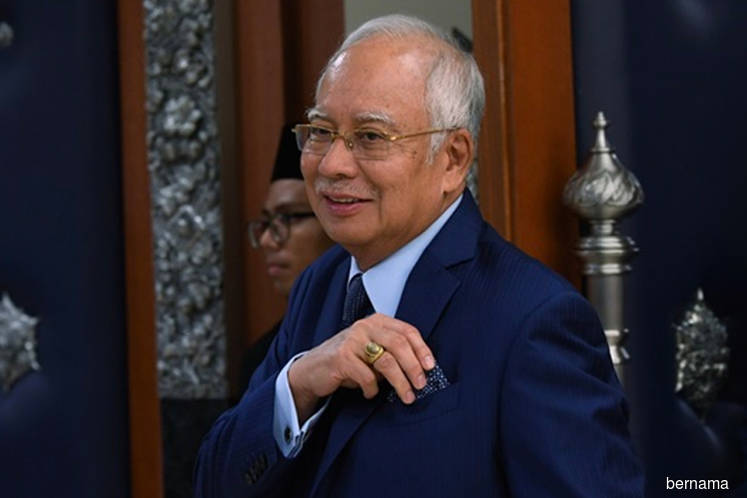 KUALA LUMPUR: Former prime minister Datuk Seri Najib Razak has asked the new government to establish a Royal Commission of Inquiry (RCI) into controversial China-linked projects — the East Coast Rail Link (ECRL) and two pipelines under the finance ministry-owned Suria Strategic Energy Resources Sdn Bhd, inked under his administration, after coming under fire for committing Malaysia to mega contracts perceived to be lopsided against it.
In a lengthy Facebook post yesterday, Najib said the RCI is needed to clear misconceptions about the projects as Malaysians are unaware of the facts and being misled by government propaganda.
"I urge the government to hold an RCI on these three projects to determine if there is [any] wrongdoing.
"The people have the right to know if the decision to cancel [the projects] is made for a reasonable and strong reason and was not done to vent anger against the Barisan Nasional (BN) government or the Chinese government that does not want to concede to the Pakatan Harapan (Pakatan) demand," Najib said.
He said the misconceptions include that the projects are too costly; the BN gets remuneration from these projects; the interest rates and loans are too expensive; that Malaysia could not afford the three projects; and multilayer payments are unfair and biased.
Najib called on the government to disclose all agreements, feasibility studies, economic impact assessments and cost-benefit analyses to determine whether the projects ought to be resumed or cancelled.
"This allows the people to judge for themselves. Until all the documents are revealed, I feel disappointed and sad for the people in the East Coast of the peninsula because they would lose the potential of development in their areas and the chance for them to improve their economic status to be similar with those living in the West Coast."
However, he did not comment on Prime Minister Tun Dr Mahathir Mohamad's remark during a five-day official visit to China that "Najib is stupid" — an observation triggered by the lopsided agreements, which prompted Dr Mahathir to visit China to persuade the Chinese that fiscally-strapped Malaysia cannot afford to proceed with the contracts.
Najib maintained the agreements have exit clauses, unlike the independent power plant or toll agreements signed during Dr Mahathir's first tenure as prime minister. "Until now, Pakatan can't fulfil their promise to abolish tolls," he said.