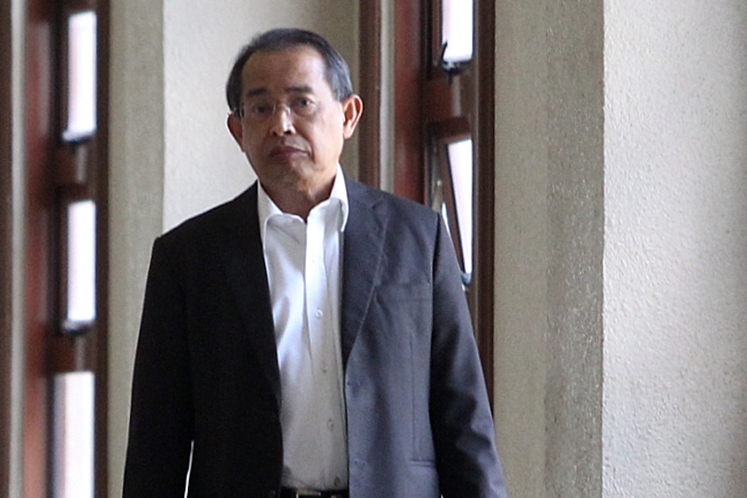 Prosecution witness no. 45: Tan Sri Wan Abdul Aziz Wan Abdullah.
Datuk Seri Najib Razak at the Kuala Lumpur High Court today. Photos by: Mohd Izwan Mohd Nazam/The Edge
KUALA LUMPUR (July 10): Former Treasury Secretary-General Tan Sri Wan Abdul Aziz told the High Court today that he was directly instructed by former Prime Minister Datuk Seri Najib Razak to expedite the loan approval process from Retirement Fund Incorporated (KWAP) of the first RM2 billion for SRC International Sdn Bhd.
Wan Abdul Aziz, 67, is the 45th prosecution witness to take the stand today and testify in the SRC trial as it enters its 35th day.
The witness said he served as the Treasury Secretary-General from 2007 to 2012 and was also chairman of KWAP during the same period.
During examination-in-chief by deputy public prosecutor (DPP) Datuk Suhaimi Ibrahim, the witness said it is unusual for KWAP to disburse loans before receiving a government guarantee, which led to the DPP asking him why the first RM2 billion loan was disbursed anyway.
The witness said he had received a phone call from Najib to expedite the first loan approval process to allow for early disbursement of the loan requested by SRC. This would then be followed by a government guarantee.
He then informed former Finance Ministry secretary Datuk Maliami Hamad, who was the 43rd prosecution witness, about the phone call he received from Najib.
Najib faces multiple counts of criminal breach of trust, money laundering and abuse of power, involving a total of RM42 million SRC funds.
He is alleged to have received RM27 million and RM5 million on Dec 26, 2014, and another RM10 million on Feb 10, 2015.
Wan Abdul Aziz is continuing his testimony today.
Related story: Najib ordered KWAP to double loan amount to RM2b