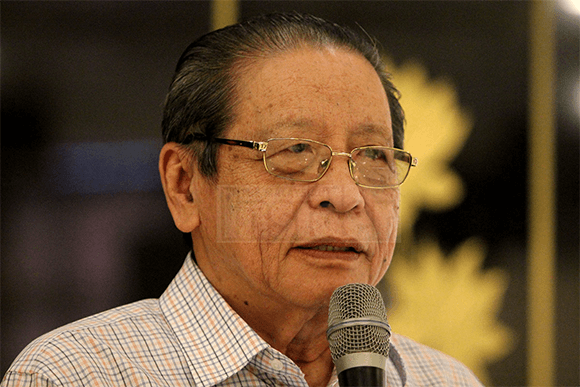 (June 15): Prime Minister Datuk Seri Najib Razak must state whether he, along with the Cabinet, will resign if 1Malaysia Development Berhad (1MDB)'s financial scandal is not resolved by year end as promised, DAP's Lim Kit Siang said today.
The Gelang Patah MP said Najib must tell the truth about the 1MDB fiasco that has generated much criticism for the prime minister, who is also chairman of the company's board of advisors.
"Malaysians do not want Najib to play the role of ace magician by just winding up and dissolving the 1MDB so as to claim that 1MDB controversy is no more as it has ceased to exist, but to be responsible for all 1MDB and 1MDB-related issues and scandals, including those passed off to other entities should there be a winding-up and dissolution of 1MDB," he said in a statement.
"Malaysians want a straightforward answer from the Prime Minister: Is Najib giving an undertaking to the nation that he and all his Ministers will resign and retire from politics if the 1MDB scandal and all-related 1MDB issues are not resolved by the end of the year?"
Lim, who is the DAP parliamentary leader, said Deputy Prime Minister Tan Sri Muhyiddin Yassin and other Cabinet members should also state publicly whether they agree with Najib about the undertaking.
"If the answer here is in the positive, then Malaysians are not only looking at the possibility of some 30 parliamentary by-elections by the end of the year but even a change of government in Putrajaya," he said.
Yesterday, Najib promised Umno leaders and other pro-establishment groups that he would solve controversies surrounding the state investment vehicle between two to six months.
"Earliest is two months, but at any rate, he said he will solve it by the end of the year," Hasan Hamzah, who is de-facto leader of the group Gabungan Bertindak Perpaduan Melayu, told The Malaysian Insider after the session yesterday.
Najib met Umno division information chiefs at the Putra World Trade Centre (PWTC) yesterday to address party grassroots leaders on the recently-tabled 11th Malaysia Plan, the goods and services tax (GST) and other current issues.
Although admitting this was "good news", Lim noted that Najib was still coy about his promise to the Umno leaders as it was made at a closed-door function instead of "broadcasting from the rooftops".
"Yesterday I asked why Najib, as the final approving authority for all 1MDB decisions, was prepared to brief Umno division leaders and selected NGO representatives but not in Parliament on the 1MDB controversy.
"Malaysians are still waiting for Najib's answer," he said.
Criticism has been mounting over 1MDB which has raked up RM42 billion in debts since its establishment in 2009.
Najib has come under fire over the fund's debts, reports of mismanagement and dubious dealings, chiefly from former prime minister Tun Dr Mahathir Mohamad who is also calling for his resignation over the controversy. – The Malaysian Insider