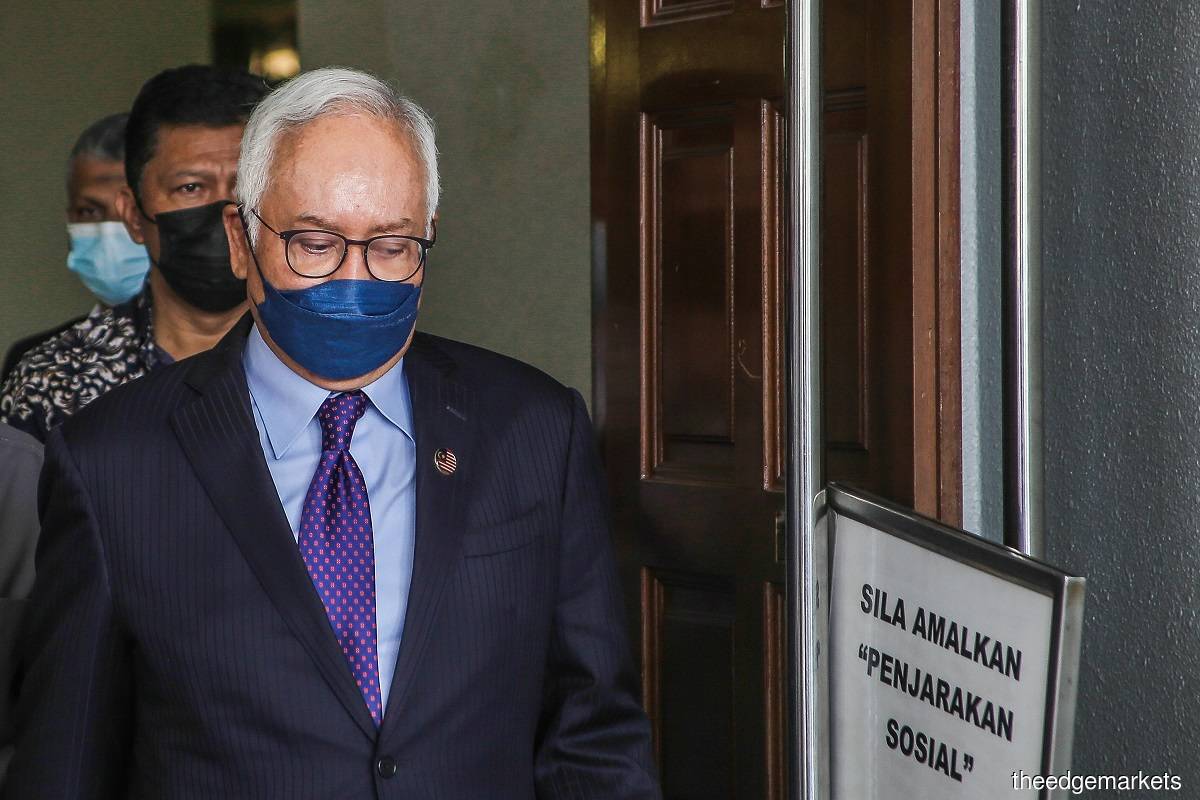 KUALA LUMPUR (Feb 22): Former prime minister Datuk Seri Najib Razak has applied to set aside a Mareva injunction imposed by the High Court here on Feb 8 to stop him from disposing of or dissipating assets worth US$681 million in relation to 1Malaysia Development Bhd (1MDB).
The Pekan Member of Parliament filed the application through his solicitors Messrs Shafee & Co last Friday (Feb 18).
Judicial Commissioner Atan Mustaffa Yussof Ahmad fixed May 6 to hear Najib's application and extended the Mareva injunction until the hearing — when the case was called up for case management on Monday afternoon. The judicial commissioner fixed March 15 for case management.
Last May, 1MDB and its four subsidiaries had filed a suit to claim a total of US$8 billion from a number of defendants including Najib. In their suit, they claimed that Najib, as the former chairman of the board of advisers, had facilitated the companies to enter into sham agreements to create a circuitous trail of money to ease or conceal the misappropriation of 1MDB funds.
In Monday's matter, 1MDB and its subsidiaries 1MDB Energy Ltd, 1MDB Energy (Langat) Ltd, Global Diversified Investment Company Ltd (formerly known as 1MDB Global Investments Ltd) and 1MDB Energy Holdings Ltd were represented by Datuk DP Naban and Kong Xin Qing, Siva Kumar Kanagasabai and Dhanyaa Shreeya from Messrs Skrine.
Tan Sri Muhammad Shafee Abdullah, Tania Scivetti, Syahirah Hanapiah and Low Zhi Jie from Shafee's law firm appeared for Najib.
Lawyer Michelle Teoh from Messrs Nethi & Saw appeared for Vincent Beng Huat Kot, followed by Nurin Husnina of Messrs Raja Riza & Associates for Radhi Mohamad, and GK Ganesan and KN Geetha from Messrs GK Ganesan for Kelvin Tan Kay Jin, who were previously 1MDB senior officers.
Previously on Feb 8, Judicial Commissioner Atan Mustaffa allowed 1MDB's ex parte application to impose a Mareva injunction against Najib. As a result of the freezing order, Najib's assets of up to US$681 million cannot be disposed of or dissipated until the suit's determination. He is also to disclose his assets up to the value of US$681 million within 14 days from the order.
However, he is allowed to withdraw up to RM100,000 a month for his expenses.
The day after the injunction was granted, Najib took to Facebook to say that he would strongly challenge the Mareva injunction and claimed that he does not possess assets worth that much.
Two days after the Facebook posting, Najib through his lawyers and with the agreement of the 1MDB solicitors managed to obtain a stay of the hearing of the suit pending the completion of his ongoing 1MDB criminal trial.
In their suit, 1MDB and its subsidiaries also contend that Najib disregarded his obligations under Article 117 and abused his powers in exercising his public functions to maliciously commit fraud and misappropriation, resulting in the fraudulent transfer of funds and losses to them.
They contend that Najib should have foreseen the losses incurred due to such acts of misappropriation during each of the phases, losses that every Malaysian now has to bear.
They also claim that Najib abused his position in causing further losses and hence, they are entitled to aggravated and exemplary damages because of his actions in obstructing and hindering investigations into the wrongdoing, whereby he obtained secret profits for himself or his agents.
They further allege that Najib had taken advantage of his position and power to influence, facilitate and cause fraud, so that the management complied with his stated intentions that ran contrary to 1MDB's corporate objectives, national interests and the interests of Minister of Finance Inc — to benefit his stepson Riza Aziz, businessman Low Taek Jho or Jho Low and others.
Read also:
1MDB, subsidiaries obtain Mareva injunction to freeze Najib's assets, allows ex-PM to withdraw maximum RM100,000/month from bank accounts
Najib must disclose his assets of up to US$681m within 14 days after Mareva injunction is served
Najib to 'strongly challenge' Mareva injunction freezing his assets
Pauline Ng & Surin Murugiah