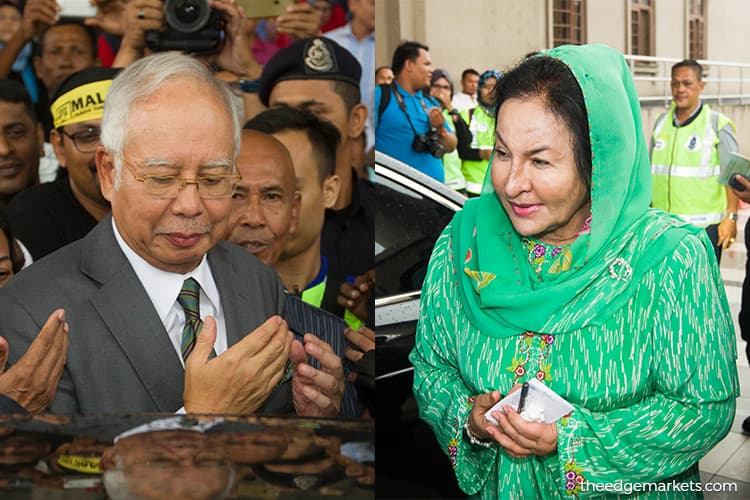 KUALA LUMPUR (April 4): Former prime minister Datuk Seri Najib Razak and his wife Datin Seri Rosmah Mansor claims the RM676 million suit filed by carpet businessman Deepak Jaikishan does not disclose the conspiratorial agreement involving them or any predominant intention on their part to injure him.
They said Deepak did not disclose a reasonable cause of action as he does not have locus standi (legal standing) to claim for losses purportedly accruing under the Acquisition Agreement dated May 16, 2007 entered into between Astacanggih Sdn Bhd and Awan Megah Sdn Bhd.
In the application to strike out the suit filed by Deepak against them for tort of conspiracy and interference in a property deal that allegedly caused his company to suffer huge losses, both Najib and Rosmah claimed the suit is vague, imprecise and lacking in material particulars in relation to the overt acts in furtherance of the alleged conspiracy to injure by them.
"The claim is devoid of basis, misconceived and obviously unsustainable for being scandalous, frivolous and vexatious. It's also an abuse of court process," they stressed.
They also agreed with one consent that the suit was raised for an improper collateral purpose, therefore Deepak is not entitled to any reliefs claimed.
They said the settlement and withdrawal of another civil suit in a different High Court previously which is related to the Acquisition Agreement are final, conclusive and binding on the parties and their privies.
"The Plaintiff (Deepak), as a shareholder and director, is barred and disentitled from trying to resuscitate claims pursuant to Astacanggih's purported rights under the Acquisition Agreement," they said in their striking out application.
Najib and Rosmah filed their striking out application last Jan 7, while the other two defendants — Boustead Holdings Bhd and its subsidiary, Bakti Wira Development Sdn Bhd — filed the same application on Dec 17 last year.
Deepak's lawyer Irzan Iswat Mohd Noor told theedgemarkets.com that High Court Judge Datuk Azimah Omar today fixed June 3 to hear the striking out application.
On Oct 12 last year, Deepak filed the suit claiming that he had suffered losses due to conspiracy, fraud and undue influence by Najib, Rosmah and two others in a property deal that allegedly caused his company to suffer huge losses.
Deepak claimed that as a director and majority shareholder of Astacanggih Sdn Bhd, he had signed a land deal with the director and majority shareholder of Awan Megah (M) Sdn Bhd, Raja Ropiaah Raja Abdullah, over three pieces of land, involving 181.9 hectare in Mukim Kapar, Klang and Mukim Bukit Raja, in the Petaling district.
He claimed that a deposit payment of RM13 million had been made by Astacanggih to Awan Megah and a land bond for RM72.5 million from Kuwait Finance House (M) Bhd was submitted to the Malaysian government.
However, he claimed Awan Megah refused to produce the original land titles for transfer to Astacanggih.
Deepak claimed that as a result of the conspiracy and interference from Najib and Rosmah, who were named the first and second defendant, he was forced to sell 80% (16 million units) of his shares in Astacanggih to Boustead Holdings through Bakti Wira Development.
He is seeking RM600 million in general damages, RM50 million in exemplary damages and RM26 million in aggravated damages.
Lawyer Chong Wei Teng appeared for Najib and Rosmah, while Boustead Holdings and Bakti Wira Development were represented by lawyers Kenny Chan Yew Hoong and Lai Wai Fong.