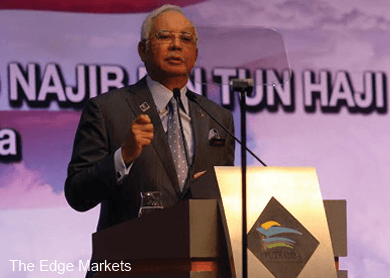 KUALA LUMPUR (Jan 21):  Datuk Seri Najib Razak has admitted receiving RM42 million from SRC International Sdn Bhd in his private bank account, according to a written statement by him sighted by The Malaysian Insider, responding to Tun Dr Ling Liong Sik who is being sued by the prime minister.
However, Najib said he had no knowledge it was channelled through two intermediaries.
The former MCA president had said Najib was unfit to lead Malaysia following the revelation last July that some RM2.6 billion was deposited into his private bank accounts, and another RM42 million from the Finance Ministry-owned SRC, a former subsidiary of troubled 1Malaysia Development Berhad (1MDB).
In his pleadings, Najib questioned Dr Ling's claim that Gandingan Mentari Sdn Bhd and Ihsan Perdana Sdn Bhd acted as intermediaries to channel the money to Najib.
"Therefore, the defendant (Dr Ling) is required to prove it," Najib said in the statement filed on January 12 through the legal firm Messrs Hafarizam Wan & Aishah Mubarak.
Dr Ling in his defence earlier had cited whistleblower site Sarawak Report and The Wall Street Journal, which reported on July 2 last year that RM2.6 billion and another RM42 million had been transferred to AmPrivate Banking through Gandingan Mentari and Ihsan Perdana.
But the prime minister refused to explain further, saying the case was being investigated by the Malaysian Anti-Corruption Commission (MACC), and that he would fully cooperate with the anti-graft agency.
"The plaintiff (Najib) reserves his right to address this issue (if necessary) after investigation is completed," he said.
Sarawak Report claimed that the RM2.6 billion, transferred just before the 2013 general election, was just a portion of the sum which went into the same AmBank account during the period after 2011.
MACC has said the RM2.6 billion came from an unidentified donor from the Middle East.
Najib has remained tight-lipped on the RM42 million from SRC, although he repeatedly denied abusing public funds for personal gain, accusing those behind the allegations of trying to topple him.
Dr Ling said the Umno president had failed to disclose the identity of the donor, the source of the funds and how it was utilised.
The former transport minister had also said there was no legitimate reason for SRC to channel RM42 million into Najib's personal account, or for Najib to receive such a large sum of money.
Dr Ling said although Najib on December 8 last year admitted to receiving the money as a donation, he had not channeled the money into Umno's accounts.
In his counter-suit filed last month, Dr Ling claimed Najib abused the court process, saying the Umno president did not pursue defamation suits against others, including Umno leaders, who have repeatedly criticised his conduct and integrity on various occasions.
As such, Dr Ling said Najib had created a public perception that the transfer was not for legitimate purpose and that he was not honest and transparent.
The next case management before Kuala Lumpur High Court judge John Louis O'Hara is on February 18.