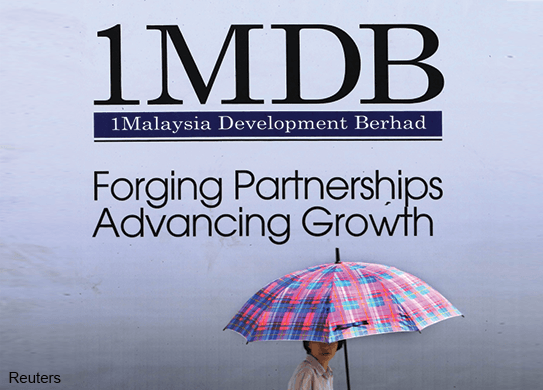 KUALA LUMPUR (May 20): Sabah assembly speaker Datuk Seri Salleh Said Keruak is questioning Tun Dr Mahathir Mohamad's push for a quick inquiry into 1Malaysia Development Bhd (1MDB), saying it is puzzling why the former prime minister wants speed over thoroughness.
Salleh, one of Najib's staunch supporters, wrote in his blog that he did not agree with Dr Mahathir's demand for a commission of inquiry to investigate the state investment vehicle.
Dr Mahathir said yesterday on his blog that the time had come for an independent commission to probe into debt-ridden 1MDB.
He said the members of the commission should not be chosen by Putrajaya so that it could "scrutinise every act of 1MDB".
"This is because it is basically going to investigate not just 1MDB but also the government, which has clearly failed to oversee the affairs of 1MDB," Dr Mahathir wrotein his blog yesterday.
But Salleh, who is also Sabah Umno deputy liaison chief, rebutted the suggestion, saying instead that whether or not the commission can do a better job that the Public Accounts Committee or external auditors would depend on the scope and depth of its investigation.
He said that Dr Mahathir had alleged that an audit would take years, and it was better to have an independent commission.
But Salleh argued that a commission of inquiry could take longer than an audit if there were many witnesses to be called and documents that needed to be studied.
He added that it was puzzling why Dr Mahathir was more concerned about time and wanted everything done fast.
"Should not thoroughness be more of the essence than speed? Why go for speed at the expense of accuracy? Salleh asked.
He also questioned if the former prime minister was suggesting that the PAC drop its investigations and that the auditors suspend the audit.
Dr Mahathir said he was sceptical of the auditor-general's probe into the troubled state investor.
Najib, who is also chairman of 1MDB's advisory board, ordered Auditor-General Tan Sri Ambrin Buang to investigate the investment firm in early March.
Dr Mahathir's latest comments yesterday came after Najib sought to pacify critics of 1MDB by imploring them to wait for the federal auditor to complete his investigation. – The Malaysian Insider