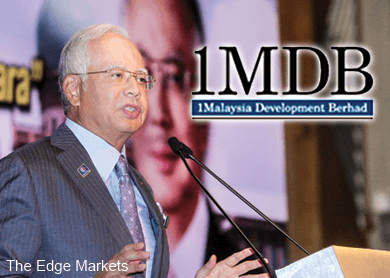 (July 27): All possibilities are being explored to file a defamation suit against The Wall Street Journal (WSJ), which has stood by its report that billions of ringgit went to the personal bank accounts of Prime Minister Datuk Seri Najib Razak, his lawyer Wan Azmir Wan Majid said.
"We are seeking an appointment soonest to brief our client (Najib) and take instruction from him," he told The Malaysian Insider.
He said all possibilities were being explored and Najib would be advised accordingly, adding that any other comments now would be "premature".
Wan Azmir was asked what his client's next steps were after WSJ and its publisher, Dow Jones & Company, last week replied that they stood by the report on documents which showed that US$700 million (RM2.67 billion) had gone to Najib's personal bank accounts.
Najib's lawyer from the firm Hafarizam Wan & Aisha Mubarak had sent a legal letter on July 8 seeking clarification from WSJ and Dow Jones as to whether their report meant that Najib had misappropriated funds.
WSJ replied that it saw no need to provide any confirmation as its news report and a subsequent opinion piece "speak for themselves".
The Malaysian Insider also understands that two senior lawyers, Datuk Mohd Hafarizam Harun and Datuk Firoz Hussein Ahmad Jamaluddin, from the legal team are now overseas on an exploratory mission in relation to their client's case against WSJ.
Lawyer Alliff Benjamin Suhaimi, who is appearing for Petaling Jaya Utara MP Tony Pua in another defamation suit by Najib over 1MDB issue, said the firm had written a letter to the High Court last week to vacate a hearing scheduled on Wednesday as the two lawyers would not be available.
"The letter, which was also sent to our firm, states that the lawyers will be outside Malaysia to handle the WSJ matter," Alliff told The Malaysian Insider.
Other lawyers interviewed by The Malaysian Insider have said Najib has the option of filing the suit in Malaysia or elsewhere where the report was published.
A delay in the prime minister's move to seek legal recourse would be seen as if the newspaper had been accurate in its July 2 report and July 6 opinion piece, which it said were based on documents sourced from Malaysian investigators.
Lawyer S.N. Nair said Najib could also file action against the WSJ publisher in the United States or in Hong Kong but must submit to local jurisdiction.
He said the two locations were picked as the WSJ reports may have been published from either place. WSJ is based in US and it also has a branch office in Hong Kong.
"He has to appoint counsel in that country because Malaysian lawyers have no right of appearance there," Nair added.
The other option for the prime minister was to file his action against WSJ in Malaysia and to obtain leave of the court to serve the court papers on the publisher.
Nair said he expected the newspaper and publisher to respond to the legal challenge in Malaysia by appointing a local lawyer.
"It is totally unthinkable for the publisher not to contest the suit as its credibility is also at stake."
He said although the prime minister had six years to file a defamation suit, he should not wait any longer.
"The sting will be lost if he delays because the prime minister's reputation has been injured," he added.
Najib's critics have urged the prime minister to sue WSJ to disprove the allegations against him and he is being watched closely to see how he will respond.
The prime minister has so far denied taking 1MDB funds for "personal gain" but has not directly addressed the fund transfers to his accounts.
Najib and his office have also called the allegations political sabotage. The prime minister also blames former prime minister Tun Dr Mahathir Mohamad of conspiring with foreign agents to bring down administration. – The Malaysian Insider