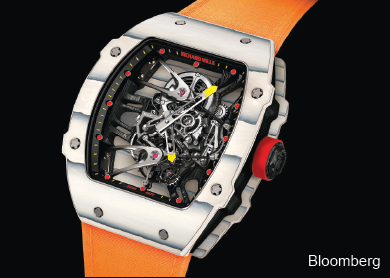 RAFAEL Nadal is one of the best tennis players in the world, and the only one to win multiple Grand Slam tournaments with a tourbillon on his wrist. Yeah, he plays with the usually delicate complication courtesy of Richard Mille, who has created unbelievably durable and staggeringly lightweight watches just for the big-name athlete. And with this new watch, released to celebrate Nadal's quest for a 10th French Open title, Mille has pushed the art even further.
The most important innovation in the RM 27-02 is a new type of construction, fusing the back, bezel and movement baseplate together more seamlessly than most watches. With the use of materials like NTPT carbon composite, and a mixed quartz and carbon composite, Mille has made the watch even more resistant to shocks and damage, since there are fewer weak points where parts come together, and the rigid plate keeps everything in line.
But remember, this watch is also a tourbillon, which means the balance wheel ticks out the seconds as it spins in a cage designed to lessen the effects of gravity on the timekeeper. The titanium bridges arc through the cases' negative space, supporting a barrel that provides 70 hours of power at 12 o'clock and the one-minute tourbillon down at six. It can be kind of hard to see the hands, but you should just look for the bright yellow tips, which stand out against the black and grey of the movement. Little things, such as special high tension screws, shock-absorbing systems and a faster moving barrel, allow the watch to continue to function as someone like Nadal subjects it to conditions that would wreck almost any other timepiece.
Creating extreme watches for athletes is something Mille has been doing consistently for years. There have been various Nadal watches before (with and without tourbillons, and in a variety of different materials), a watch for golfer Bubba Watson that measures the g-force of his swings, and a strange green creation called the Beast that sprinter Yohan Blake wore during the London Olympics. Yes, a lot of marketing is going on here, but each of these watches does contain genuine technical innovation that uses materials in a new way or lets a watch do something it couldn't do before. Whether that innovation is worth prices that approach and sometimes exceed US$1 million (RM3.64 million) is another question entirely.
The first time I ever picked up a Nadal watch, I laughed. Seriously. My brain couldn't comprehend that an object with so much volume — these are massive watches, remember — was so light. Even if you're not in the market for a Richard Mille, next time you have a chance to see one of these contraptions at a retailer or an auction house, don't pass it up. The aesthetics and prices of these watches might not be for everyone, myself included, but there's no denying the engineering and craftsmanship when you have one in your hand.
The Richard Mille RM 27-02 is a limited edition of 50 pieces and is priced at US$775,000. — Bloomberg
This article first appeared in The Edge Financial Daily, on May 29, 2015.