This article first appeared in The Edge Malaysia Weekly, on June 12, 2017 - June 18, 2017.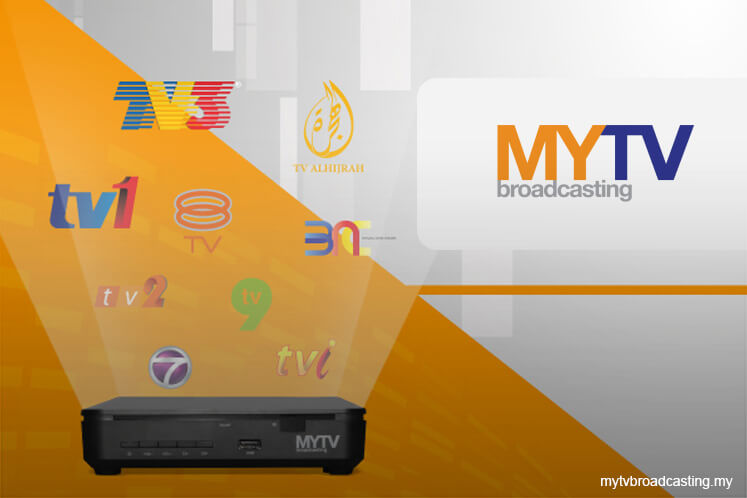 MYTV Broadcasting Sdn Bhd, the company spearheading the national digital terrestrial television (DTT) rollout, will waive fees for free-to-air (FTA) broadcasters until June next year as it revises its business model.
CEO Michael Chan confirms in an interview that FTA broadcasters will not be charged transmission fees until the analogue switch-off (ASO) in June 2018, which is when Malaysia will complete its DTT migration by terminating analogue transmission.
"We can no longer go to the market and expect them to pay RM12 million or RM25 million per channel. That is not going to happen anymore," says Chan. "We are looking to bring that down to between RM8 million and RM18 million."
MYTV — ultimately owned by billionaire businessman Tan Sri Syed Mokhtar Albukhary — had previously proposed a transmission fee of RM12 million for each standard-definition (SD) channel and RM25 million for each high-definition (HD) channel.
The proposal came under fire from broadcasters — they felt that the proposed fees were too steep.
After the ASO, broadcasters will also enjoy "significant" rebates on a case-by-case basis for six months up to the end of next year, reveals Chan, who was appointed CEO in February. This means that MYTV will only begin receiving full transmission fees from January 2019.
Due to heavy infrastructure investments for MYTV, "obviously we will not be breaking even for a while" due to amortisations and depreciations ahead, but MYTV hopes to be cash-flow positive as soon as possible, Chan remarks.
The lower fees and temporary rebates are part of MYTV's business model revision, says Chan. The company has also identified other revenue streams — it is looking to earn income from conducting advertising and promotion sales on behalf of its broadcasters.
In addition, MYTV may help its content service providers (CSPs) syndicate content that could be monetised in other Asean countries, thanks to its relationship with other DTT players. However, this will be further down the road, says Chan.
"We still believe linear TV has a long way to go and along the way, we will look at how we can deliver new services," says Chan. The possibilities include OTT services and video-on-demand options, leveraging the interactivity of its decoders, which are also suitable for surveys, data gathering and audience research. "Our decoders will be able to poll the households. The applications are very wide-ranging."
The Malaysian migration deadline is part of a collective Asean push to end analogue transmission in the region by 2020. The deadline of each country varies: Singapore's ASO is targeted for end-2017 while Thailand is switching off analogue broadcast in stages between 2015 and 2018.
Last week, Prime Minister Datuk Seri Najib Razak launched MYTV's DTT service, known as myFreeview. Viewers can access the service via a decoder that will be distributed free to about 4.2 million households that qualify for the government's 1Malaysia People's Aid (BR1M). MYTV will pay for two million units while the government, via the Malaysian Communications and Multimedia Commission, will foot the rest of the bill.
The decoders will be delivered by Pos Laju, the courier arm of Pos Malaysia Bhd. Some 500,000 decoders — out of MYTV's two million commitment — have been delivered so far, says Chan.
The cost will likely be significant. Chan declines to discuss numbers but the decoders are selling for RM199 each at electronic retailers nationwide. Going by the retail price, that would put the cost of another 1.5 million decoders at RM298.5 million.
That does not take into account the delivery cost, which is RM9 per decoder in Peninsular Malaysia and RM15 each in Sabah and Sarawak, says Chan. Given a rough breakdown of 60:40 across both regions, delivering 4.2 million decoders would translate into RM47.88 million.
In addition, MYTV has heavy capital expenditure ahead in terms of infrastructure. The company is now at 87% population reach in terms of infrastructure readiness and is committed to reach 98% by ASO.
At present, it has completed 24 out of the 60 transmission towers needed nationwide. It aims to set up another 26 towers by year end and the remaining 10 by the first quarter of next year.
Given these commitments, MYTV's capital requirement between now and June next year is estimated at RM750 million, say sources close to the company. Chan declines to disclose internal numbers but concedes that the estimated figure is not far off.
The question is whether MYTV can meet these financial commitments. Records from the Companies Commission of Malaysia show that the company had not recorded any revenue between the financial years of 2013 and 2015 ended Dec 31.
"The group has managed to fund everything internally so far and we are very close to securing a financing facility, which will carry us until the completion of infrastructure in the first quarter of next year," Chan remarks.
He stresses that if the financing facility does not materialise, it would not affect its operation as its shareholders will step in. "This is a national project — it must be completed."
When asked if the facility will involve a shareholder guarantee, Chan says MYTV's bankers are still working out the various models. Among the possibilities are leveraging the concession itself, he adds.
While the original concession awarded to MYTV back in January 2014 was for 15 years, this has now been extended to 30 years. Chan confirms the extension but says there are still some technical conditions to be fulfilled.
The extension may be good news for Telekom Malaysia Bhd (TM). Last November, TM and MYTV inked a definitive service agreement (DSA) stipulating that TM will provide various DTT services to MYTV for 15 years starting from 2016, with an annual contract value of RM70.47 million.
While MYTV has not initiated discussions with TM to amend the DSA to reflect the longer concession period, Chan concedes that it is difficult to imagine another party undertaking the same work for MYTV.
Currently, the service carries nine FTA channels, namely TV1, TV2 and TVi by Radio Television Malaysia (RTM); TV3, ntv7, 8TV and TV9 from Media Prima Bhd; TV Alhijrah as well as the Bernama News Channel. It also carries four RTM radio stations.
MYTV is confident that it will be able to increase the number of channels to 20, and is aiming for 30 by June next year.
"RTM and Media Prima will package some new channels for us and we also have about five CSPs that we are in deep discussions with at the moment," says Chan. "From there, we will have about 20 channels that will be good to go and we just need to fill the gap of another 10 channels [by ASO]."
The ultimate goal is for MYTV to become a dominant TV platform in Malaysia, Chan adds. But is this too ambitious a goal?
For perspective, the incumbent leader is Astro Malaysia Holdings Bhd, which boasts 188 channels and serves 5.1 million households and 21 million individuals.
"Astro has a big position but remember, I will have 4.2 million decoders out there by June next year. If more people buy them and tune in via their TVs, I may have a five million base from June 2018 onwards," says Chan. "So, in terms of numbers, I think I can take them on."
That said, Chan clarifies that MYTV is not setting out to unseat Astro in that sense but to serve the people.
"We are setting out to become a huge TV platform to serve the people, who are hungry for content. We want to give the rakyat the best TV service we can — that's the goal."