This article first appeared in Forum, The Edge Malaysia Weekly, on March 11, 2019 - March 17, 2019.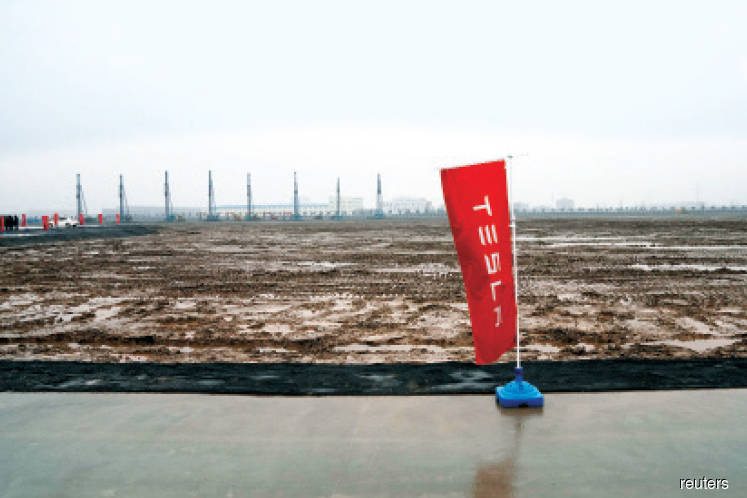 The land of Tesla Gigafactory at the groundbreaking ceremony of the Tesla Shanghai Gigafactory in Shanghai
As Tesla and other Chinese electric vehicle (EV) manufacturers (Byton, Nio, BYD) slowly but surely carve out more market share from internal combustion engine (ICE) original equipment manufacturers (OEMs), a realignment of sorts is taking place in this highly interconnected supply chain. Investments in this traditional century-old automotive value chain run into billions of dollars. Such huge investments are normally for the long haul.
Enter the "omni-channel biz-ruption" that the industry is facing: new mobility trends, in particular, sharing cars, electric engines, connected cars and tighter government decrees due to air pollution. Add to this the finicky millennial customer, who prefers accessibility platforms to direct car ownership. Amid these headwinds, ICE car manufacturers have ploughed billions into existing ICE models and have to show increasing sales and decent return on equity to shareholders. Things could not have gone more wrong.
Compare this with pure EV manufacturers (for example Tesla), which incur around 20% of ICE investment outlays, have much lower break-even values, enjoy over 35% gross margins in manufacturing, 30% less production time per car, a fraction of the moving parts compared with typically 20,000 in ICE engines, and a lot fewer suppliers to deal with in the whole supply chain. The further bonus for EV owners — the total cost of ownership is much lower than that of ICE cars (charging, maintenance, parts, warranty and so on) over the lifetime of the car. Tesla even ventures to give a one million miles warranty — something no ICE car manufacturer would dream of.
When asked about the state of the industry, a leading auto analyst succinctly summed it up as follows, "One wheel has dropped off the car, the remaining three are wobbly at best, and if we don't re-strategise and realign ourselves, the ICE could be in the ICU in no time." Could it be already a little late perhaps? Only time will tell.
To survive the biz-ruptions around it, the future car must have the following characteristics, simplified by the acronym CASED — Connected, Autonomous, Shared, Electrified and Digitised.
CASED cars have attracted investments from existing car OEMs to the tune of US$330 billion in the next few years (half of which will go into China — the biggest disruptor of ICE cars). Not being left out, Tesla has committed US$10 billion to expand its range and models. The electrifying march continues unabated for the pure EV manufacturers.
Tesla, Baidu, Byton, Nio and a handful of other start-ups deem themselves tech companies rather than car manufacturers. They can manufacture CASED cars much more easily than their ICE competitors. The whole new EV car is now really a "tech computer on wheels", and therein lies their advantage.
Legacy OEMs like Toyota, Volkswagen, Audi, BMW and Mercedes-Benz have all announced plans around EV models to make up almost 30% their future line-ups up to 2025. For these traditional OEMs, CASED cars for the future will almost surely take time to develop due primarily to sunk costs in incumbent technology developed over the decades. Their electrification strategy must always weigh options — huge sunk costs that cannot be written off, powerful workers unions worried about losing jobs, complex supply chains and an extensive network of franchise dealerships with billions of dollars invested, dedicated to selling and servicing only ICE cars.
Tech companies will have it easier. EV cars are on a Moore's law trajectory — which states that computer processing technology will double in speed every two years and cost will halve in such time. ICE cars, however, are subject to the law of diminishing returns — more investment equals smaller extracted benefits in efficiency, power, emissions (and others) due to the industry being over a century old. There is only so much one can extract from a 100-year-old technology.
EVs will beat ICE cars in market share and numbers sometime in 2040, when 65 million EVs are expected to hit the road. Current EV numbers for last year are about 1.8 million units. But exponential growth is a hallmark of tech companies and Tesla is a front runner, experiencing double-digit growth year on year. Last year, it experienced 145% y-o-y growth (due to Model 3 deliveries) in the US, its current biggest market.
As if manufacturing an EV (to ensure it has CASED features) is not already a headache for existing car OEMs, their traditional distribution channel, via franchise dealerships, adds to the cost of doing business. Huge showrooms (meaning high investments) to accommodate increasing models, floor stock costs, marketing, PR and branding are necessary to comply with strict OEM requirements to differentiate the dealer from its competition. These investments can take unduly long to recover, especially in big cities where land/construction cost is high.
Tesla spearheaded a new biz-ruptive business model — it deemed from the start of operations that it is a tech company in an automobile space and, thus, did not need a franchise dealership network to sell its cars. It followed the Apple stores business model. Imagine the billions of dollars it saved on dealerships, showrooms (and land) costs. All these cost savings were ploughed into research and development for future growth.
For a start, 500,000 Tesla customers placed online orders and paid a US$1,000 deposit to wait for their dream cars. Tesla approached this via online pop-up stores in high-traffic areas. This ripped the traditional industry apart. Never had this happened in the history of the automobile (except perhaps for high-end cars), where Tesla had orders for half a million cars and was now rushing to fulfil them. Traditional OEMs build the cars, stock them up, ship them to franchise dealers and ask the dealers to push them to customers. Carrying two months' worth of stock is the norm in most dealerships and sales margins are thin as pressure to sell mounts every month.
Current Tesla customers do everything — from research to customisation and payment — online. Only the delivery of their cars is to their homes. Imagine the cost savings from this distribution model. All the savings ultimately go back to investments in R&D for a better battery, computer, motor and brand experience.
Recently, Tesla took its distribution model one step further — fully 100% online sales, meaning no more pop-up stores or its own tech boutique showrooms. This was done to reduce the price of the Model 3 cars to a more palatable US$35,000 and ensure double-digit growth to 400,000 cars this year. Last year, Tesla sold 240,000 cars worldwide.
OEM brands that do not want to be left behind, like France's Peugeot, launched a similar online portal in 2017. From research to final purchase, everything is done online with nary a visit to a showroom. As younger, IT-savvy, connected millenials purchase their cars online — the inevitable questions for franchise dealerships are "where have all my customers gone?", and "why did I build a big showroom?" This is the million-dollar question that is plaguing the automobile retail sector. Omni-channel biz-ruption is on the doorstep and clear answers are not forthcoming from traditional OEMs on future directions as they have other headwinds to contend with.
Another unique feature is Tesla has no marketing arm, no chief marketing officer, no media agency, no advertisement and PR staff. This all resides in one man, Elon Musk, who is like a behemoth media mogul and one-man social media influencer. His Twitter, Instagram, Facebook and YouTube followers number in the millions and save him 3% to 5% of turnover for marketing costs, compared with traditional OEMs that fight to get customer attention via their traditional marketing and PR departments
Chief financial officers would love Elon Musk because they deem marketing a cost centre with no value added to the business. Marketers would hate him because of his unconventional methods. The jury is still out — who is right or who is wrong.
Be that as it may, the automobile industry is in a minor tailspin because of its sheer size in the value chain. Hence, an immediate shakeout is impossible but perceptible biz-ruptions in some portions of the value chain are beginning to shape the industry. In a decade from now, CASED cars will be part of the future mobility trend and we will look back and wonder why it took so long.
Juxtaposed against developments in the Malaysian automobile industry, the yet-to-be-announced new national automotive policy, the third national car project and our new flying car project. (RM1 million development costs — is this for real?) What holds sway for the Malaysian automobile industry?
International OEM brands (the of likes BMW, Toyota, Mercedes-Benz, Audi, Peugeot and Honda) will bring in and distribute their EV models as and when they are available overseas. No questions or hurdles here. They have the money and resources to see this through.
Our government must re-evaluate its position with respect to its plan for a third national car.
Will it be a CASED car and, if yes, who are the tech partners and what is the distribution business model? The days of big showrooms and franchise dealers are numbered and only an innovative front-end solution to customers will ensure continuous sales and services. From its design simplicity, anyone can produce an EV, but to sell it and make sustainable profits — that's a different ball game.
If the government cannot navigate the above, it would be better to just buy Tesla shares (with money allocated for the third national car project), sit back and enjoy the electrifying ride. It is going to be bumpy ride for sure, but Tesla is pushing the envelope on all fronts, and legacy OEMs have woken up and are upping the ante in the battle for market leadership in EVs. Who will win?
---
Cletus Stephenson is an auto retail expert with 15 years of experience at BMW, Audi and other car brands in Malaysia and Southeast Asia, primarily in network development, business management and coaching
Save by subscribing to us for your print and/or digital copy.
P/S: The Edge is also available on Apple's AppStore and Androids' Google Play.