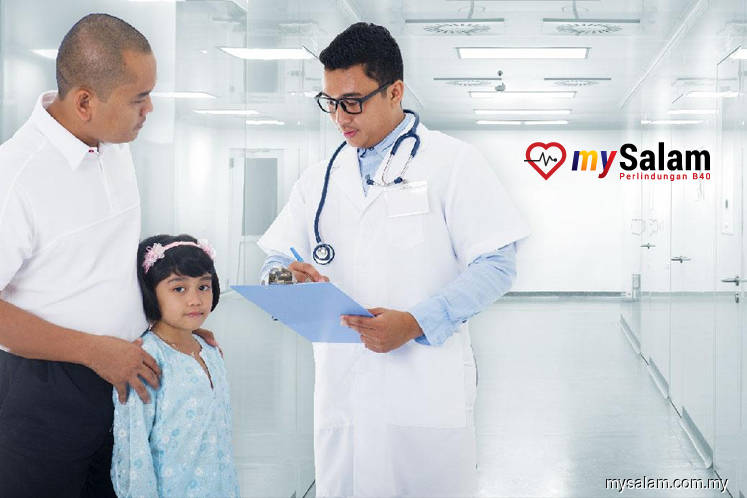 KUALA LUMPUR (June 19): The National Health Protection Scheme (mySalam), a Pakatan Harapan (PH) Government initiative to help the low-income B40 group deal with financial difficulties when admitted to public hospitals and afflicted with critical illnesses, has received positive response.
Dana Amanah mySalam chairman Johan Mahmood Merican said thus far a total 2,474 people have applied under the scheme, involving a total payment of RM349,600 for the period of March to early June.
The amount, he said, involved two types of payments, namely, hospital benefits and for those suffering from critical illnesses.
Some of the 737 recipients who suffered from critical illnesses, received RM248,000 while RM101,600 was paid to 1,737 recipients for the payment of hospital benefits.
"The Government is actively conducting various awareness programmes to provide information especially to eligible recipients of the scheme so that they will submit the applications and receive the benefits of the scheme," he said when contacted by Bernama on the latest developments in the implementation of mySalam.
MySalam's protection scheme launched by Prime Minister Tun Dr Mahathir Mohamad on Jan 24 is the takaful protection provided to the B40 through public-private partnership between the Federal Government and Great Eastern Takaful Berhad (GETB), with an RM2 billion initial fund.
About 3.8 million recipients, comprising those from the B40 group who are also recipients of the Cost of Living Aid (BSH), aged 18 to 55, and their spouses, are eligible to receive an allowance of RM50 per day or a maximum of RM700 per year if undergoing treatment at a Government hospital and one-off cash payment of RM8,000 if they are diagnosed with one of the 36 types of critical illness.
Johan Mahmood, who is also the Finance Ministry's National Budget Office director, said the Ministry, in collaboration with various parties, had intensified promotional and publicity efforts on mySalam that include roadshows to disseminate information to the public in several States in the peninsula including Pahang, Terengganu and Kelantan.
"We held roadshows in collaboration with the Bank Negara Malaysia (BNM) in conjunction with the East Coast Financial Carnival in three States from March 18 to April 6 and a series of awareness talks at the Penang State Legislative Assembly on April 9; at Bukit Kiara Longhouse (April 20); at the Selangor State Assembly, Shah Alam and at the Sekolah Rendah Integrasi Datuk Keramat (May 23) and at the Kuala Lumpur Hospital on May 25.
"We also organised talks with the Armed Forces personnel and officers at the Wardieburn Camp, Setapak, on June 3 in collaboration with the Malaysian Takaful Association," he said.
Johan Mahmood said three more talks on mySalam would be held at the Queen Elizabeth Hospital, Kota Kinabalu, Sabah, on June 23; at the  Alor Gajah district Social Welfare Office, Melaka (June 27) and a roadshow with BNM (in conjunction with Melaka Financial Carnival) in Melaka from July 8 to 14.
The Finance Ministry also worked with Great Eastern to set up kiosks at several Government hospitals in the second quarter of this year in an effort to increase the knowledge as well as the application of the target groups on the benefits that could be utilised through the scheme.
Several hospitals involved in the move include the Kuala Lumpur Hospital, Ampang Hospital, Tengku Ampuan Rahimah Hospital Klang, Selayang Hospital, Kajang Hospital, Shah Alam Hospital, Kuala Kubu Baru Hospital, Sungai Buloh Hospital, Serdang Hospital and Banting Hospital.
Similar kiosks would also be set up at the Putrajaya Hospital; Tuanku Ja'afar Hospital Seremban; Queen Elizabeth Hospital Kota Kinabalu and General Hospital in Kuching.
"We hope with the wider dissemination of this information, more eligible applicants will benefit from this scheme," he said.